IdSurvey for your telco survey
The telecommunication industry is constantly evolving and growing with a wide range of services and technologies available to consumers. In this context, surveys and feedback are key tools to help companies understand their customers' needs and preferences, as well as assess user satisfaction with their services.
Get the most out of your telecom survey with IdSurvey
Customer Experience
Your telecommunication company can conduct surveys to understand whether customers are satisfied with the services and products offered and to identify any problems or dissatisfaction. Analysis of the data helps your company understand how to improve its offering to better respond to customers and maintain a high level of satisfaction.
Discover customer preferences
Discover your customers' needs to offer customized products and services. 
This helps the company to understand what customers' expectations are and to create better suited oaffering to their needs, new services and products. Analyzing customer preferences can help the company identify new business opportunities.
Brand awareness
Study your company's brand reputation and assess how customers perceive it, whether they associate it with certain features or benefits. Use telco survey results to evaluate the effectiveness of marketing strategies and to decide how to invest resources in the future to improve the brand perception of your telecommunications company.
Choose how to conduct your surveys.
With IdSurvey you can choose how to conduct your surveys – from questionnaire distribution to data collection – from three different modes
The most powerful survey software, loved by professionals.
IdSurvey, the telecom survey software with endless uses
With IdSurvey you can conduct online, over the phone and offline telecommunication surveys for a wide variety of purposes:
Telecommunications Market research
Amazing feedback from our customers around the world.
"Great CATI software and excellent customer service - they provide you with customized training and technical assistance to make sure your projects are successful. They offer a fast turnaround to questions and their support team is amazing."
"The most sophisticated software for opinion polls and market research. User friendly interface, no need for additional experts."
"We found in IdSurvey the perfect partner for us. IdSurvey is the software that completely covers our company's needs in terms of data collection. You can choose from a variety of licenses that suit any kind of business, from the smallest to the largest."
"The software combines an easy to use GUI with the possibility to write the questionnaire in code, this makes it fast and easy to create complex surveys. The software feels stable and the uptime on our hosted version has been 100% for us."
"I overcome the limitations I found in the tools I used before IdSurvey. Powerful and easy to use, with a very knowledgeable and flexible support team. The possibilities of use are almost limitless."
"The way IdSurvey handles issues is outstanding. It is very well documented and very fast. The staff is professional and helpful at all times."
"Powerful and easy to use software for collecting data and designing surveys. I love IdSurvey and I would recommend it to anyone doing surveys."
"When we first started using IdSurvey, we were amazed by the clean interface and ease of use of the system. IdSurvey provides us with robust sample management . Programing questionnaires has never been easier!"
The integrated solution of advanced tools for surveys, feedback collection and analysis
IdSurvey gives you a wide range of tools to design and deploy any type of survey – from questionnaire construction to data collection to real-time report generation.
More than 50 types of telecom survey questions
With IdSurvey, you have access to a wide range of question types, from multiple-choice to open-ended, from rating with different display options to standard or comparative slider questions. There are no limits to the design of your telecommunication questionnaire.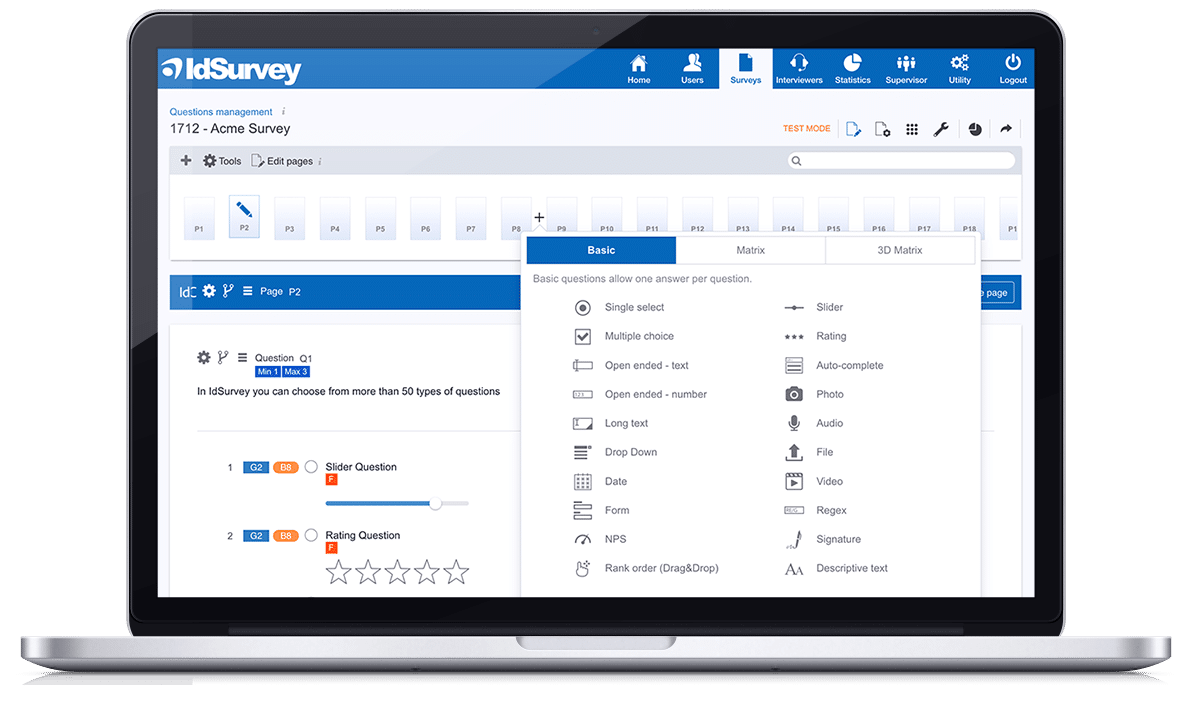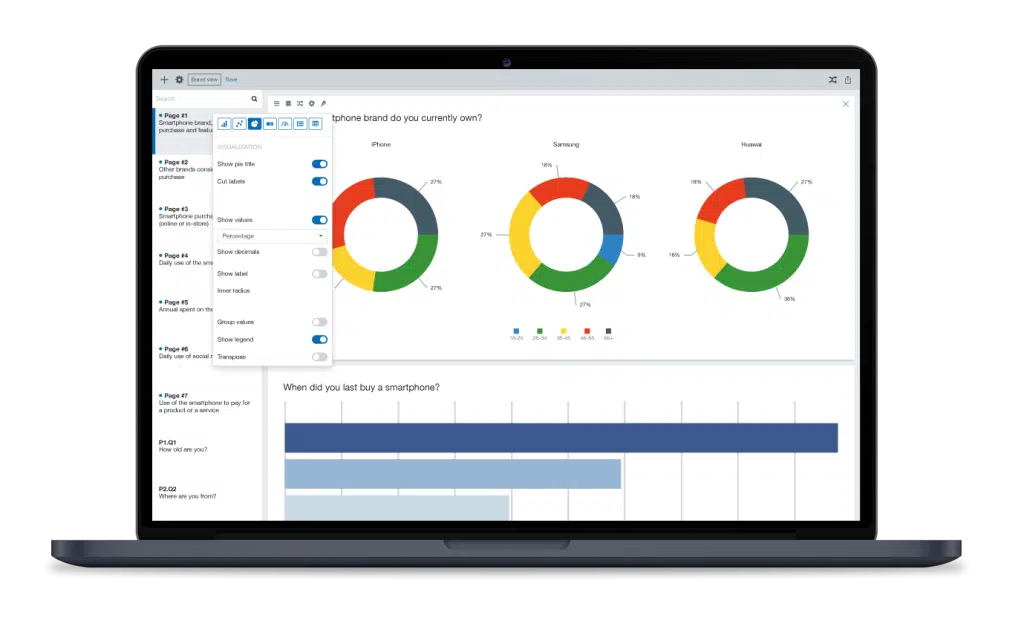 NPS® analysis
The NPS® question allows you to instantly analyze your telecommunications company's brand reputation, learn about promoters and detractors, so you can find strategies to boost brand reputation.
Built-in web softphone
IdSurvey provides a complete interface for telephone interviews that also includes an integrated softphone. The interviewers only need to access the interface from a browser to start working without any form of distraction.
Email Sender
Design email campaigns to send invitations to your survey. It's all integrated and instant, so you can schedule remainders to be sent only to customers who have not yet completed the interview. Take advantage of the versatility of Smart campaigns to automate sending based on the criteria you choose.
SMS Sender
Use the speed of SMS to reach a wider audience and collect interviews even faster. SMS campaigns offer all the benefits of email campaigns: remainder, smart campaigns and reporting and sending outcomes.

Integrations
Our team can assist you in integrating IdSurvey with your systems, such as CRM, to create the perfect infrastructure for your company's needs. Contact our team to discover the endless integration possibilities.
The most powerful survey software, loved by professionals.
Customer satisfaction and retention
One of the reasons it is important to be aware of the customer experience is that it is directly related to customer loyalty. Satisfied customers are more likely to continue using your services and to recommend them to friends and family. Conversely, dissatisfied customers are more likely to seek alternatives and withdraw from the contract. Assessing the customer experience enables companies to identify problems that cause dissatisfaction and take steps to resolve them.
In addition, customer satisfaction surveys in telecommunication enable companies to tailor their services to the needs of customers. For example, if a company finds that many of its customers use streaming video services, it may decide to offer specific pricing packages for these services. In this way, the company can better meet customers' needs and increase retention.
Customer experience is an ever-changing concept, as customers' needs and preferences can change over time. Therefore, it is important for telecommunications companies to continue to monitor and evaluate the customer experience through retail survey and polls. In this way, they can identify problems and take necessary measures to improve customer satisfaction.