Mobile survey app for offline survey
CAPI software and offline survey app
CAPI software for offline surveys, wherever you are
In today's digital age, there are still instances when Wi-Fi or data connectivity may be unavailable. However, even in such situations, the IdSurvey CAPI software offers a reliable solution for conducting surveys. Designed for Computer Assisted Personal Interviewing, this software enables offline data collection, ensuring that surveys can be conducted seamlessly in any environment. The IdSurvey CAPI mobile survey app provides interviewers with the ability to collect data without the need for an internet connection. The CAPI survey app is available on iOS and Android. Interviewers can effortlessly synchronize their collected data whenever an internet connection becomes available, reducing the risk of data loss and maintaining a streamlined workflow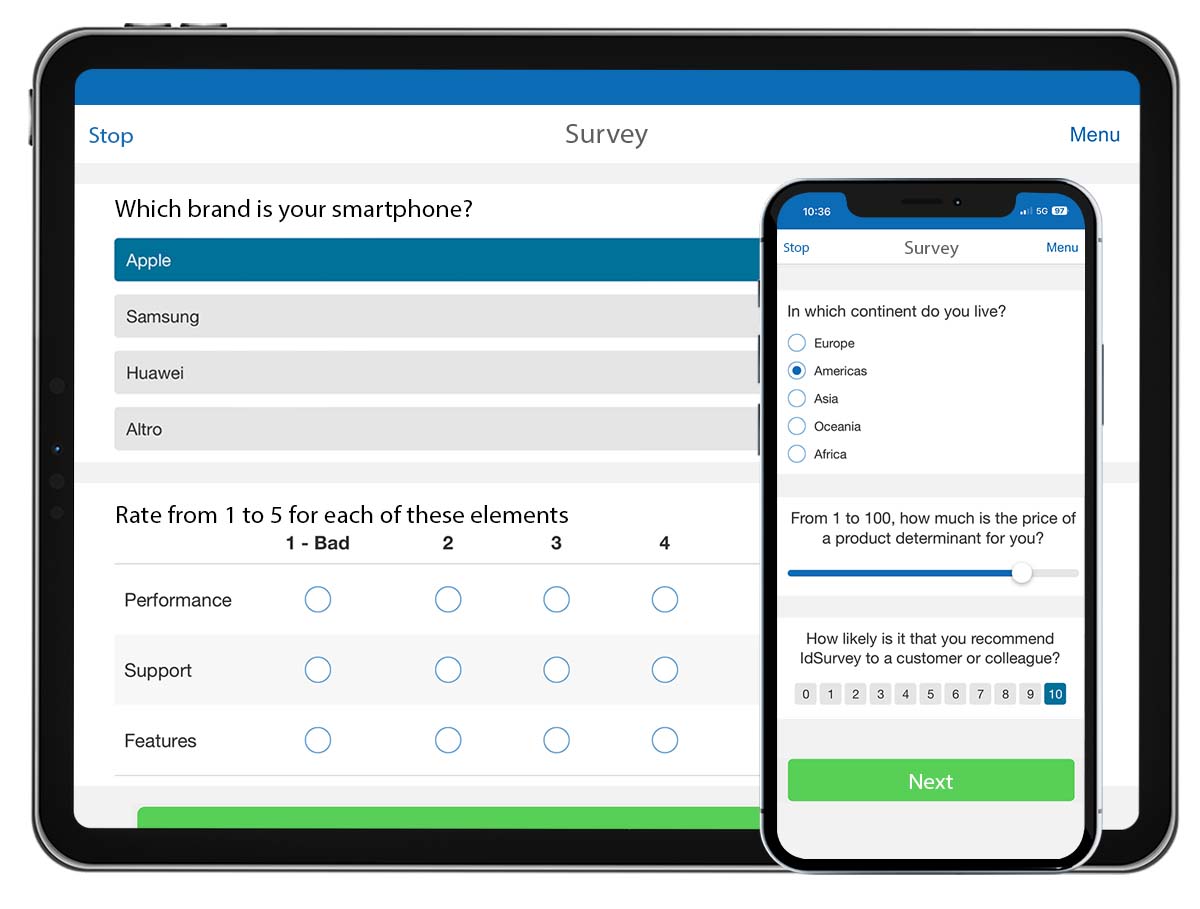 Mobile survey app main features
IdSurvey offers a free mobile survey app that serves as an efficient offline survey tool. Designed to be compatible with both Android and iOS mobile devices, this app allows interviewers to conduct face-to-face interviews using their smartphones or tablets. The offline survey app ensures that interviewers can carry out surveys in any environment, without worrying about connectivity issues. Say goodbye to the traditional pen-and-paper methods (PAPI) and streamline the data collection process. The app CAPI provides a convenient and intuitive interface, making it easy for interviewers to navigate through survey questions and input responses accurately.
Mobile survey app download
Download the free offline survey app for offline survey and mystery shopping, from your device store
Request CAPI software demo
Fill in the form to schedule a demo of IdSurvey.
IdSurvey is the survey software professionals love. Thanks to its advanced survey tools it's easy to design even the most complex questionnaires. Schedule a free live demo with our team today.
Offline survey app intuitive interface
Start working with mobile survey without any training
The IdSurvey CAPI software application is specifically developed to facilitate efficient offline surveys right from the start, eliminating the need for any interviewer training and making the work of your agents easier. An intuitive and user-friendly interface assists agents throughout the CAPI survey process. The mobile survey app represents a sophisticated evolution from traditional paper questionnaires (PAPI), delivering significant time savings for both you and your agents.
Set a statistical sample for your offline survey
In your project, you can set survey quotas using the CAPI software and the offline survey app to ensure that only relevant interviews are collected in alignment with your research goals. Quotas can be configured based on pre-existing data or responses obtained during face-to-face surveys, offering the flexibility to set simple or stratified quotas. Respondents who meet the criteria for a full quota will be automatically excluded from the survey during any synchronization of the CAPI software.
Mobile survey: Identified or anonymous
Interview specific or random respondents in your CAPI survey
With the CAPI software, you can assign a designated list of respondents or locations to each agent. This ensures that each CAPI survey is linked to a specific respondent, maintaining accurate data tracking. You have the flexibility to collect anonymous interviews or you can request respondents to provide their data during the questionnaire. In the latter scenario, IdSurvey will dynamically generate a new contact in real-time for each new interview, allowing for seamless data management.
CAPI software and Mixed Mode
Mix mobile survey with phone and web interviews in a single project
By utilizing the Mixed Mode feature, you can integrate the CAPI methodology with web surveys or telephone surveys. This allows for a flexible approach where in-person interviews can be conducted with respondents who are unavailable for phone interviews. Additionally, you have the option to gather information in person from potential research participants, whom you can subsequently interview via phone or web. This flexible approach ensures that you can adapt your survey methods based on respondent availability and preferences.
You have the option to utilize the CAPI software with prepaid packs of completes, providing you with convenience and the necessary flexibility for your research projects. These interview packs offer a cost-effective solution while ensuring optimal flexibility. Discount brackets for offline surveys ensure that you receive the best prices available, regardless of the size of your purchase. The pricing is calculated based on the total number of interviews acquired within the past 12 months, guaranteeing the most competitive rates. You only pay for completed interviews. The iOS and Android app for CAPI is available for free download from the respective device stores.
Amazing feedback from our customers around the world.
"Great CATI software and excellent customer service - they provide you with customized training and technical assistance to make sure your projects are successful. They offer a fast turnaround to questions and their support team is amazing."
"The most sophisticated software for opinion polls and market research. User friendly interface, no need for additional experts."
"We found in IdSurvey the perfect partner for us. IdSurvey is the software that completely covers our company's needs in terms of data collection. You can choose from a variety of licenses that suit any kind of business, from the smallest to the largest."
"The software combines an easy to use GUI with the possibility to write the questionnaire in code, this makes it fast and easy to create complex surveys. The software feels stable and the uptime on our hosted version has been 100% for us."
"I overcome the limitations I found in the tools I used before IdSurvey. Powerful and easy to use, with a very knowledgeable and flexible support team. The possibilities of use are almost limitless."
"The way IdSurvey handles issues is outstanding. It is very well documented and very fast. The staff is professional and helpful at all times."
"Powerful and easy to use software for collecting data and designing surveys. I love IdSurvey and I would recommend it to anyone doing surveys."
"When we first started using IdSurvey, we were amazed by the clean interface and ease of use of the system. IdSurvey provides us with robust sample management . Programing questionnaires has never been easier!"
What is CAPI software?
CAPI software, also known as Computer-Assisted Personal Interviewing software, refers to a professional tool used for conducting surveys and collecting data. It is designed to facilitate the process of conducting face-to-face interviews by leveraging technology. The CAPI software typically operates on mobile devices such as smartphones or tablets, enabling interviewers to administer surveys electronically in real-time. This mobile survey app provides a user-friendly interface that guides the interviewer through the survey questions, making the data collection process more efficient and accurate. The CAPI software is especially beneficial for offline surveys, as it allows interviewers to collect data even in environments without internet connectivity.
How to use a CAPI software?
Using CAPI software, such as the IdSurvey Mobile Survey App, is a straightforward and efficient process. You'll need to install the app on your mobile device from the app store. Once installed, launch the app and log in using your credentials. Next, familiarize yourself with the user-friendly interface of the mobile survey app. You'll find various options and features tailored to enhance your data collection experience. You will download the survey onto your device for offline access. This capability allows you to conduct interviews even in areas with limited or no internet connectivity. During the interview, utilize the mobile survey app to present questions to the respondents and capture their responses. The app ensures accuracy by providing skip patterns, display conditions, validations, and other functionalities. Once the interview is completed, the data collected is securely stored on your device. When you have access to the internet, you can synchronize the app with the CAPI software platform to upload the collected data. This synchronization ensures that your data is safely transferred into your overall research database.
How to create an offline survey?
Creating an offline survey using the CAPI software, such as the IdSurvey, is a user-friendly process. Here's a step-by-step guide:

1. Design your survey: Access the CAPI software and use the survey design tools to create your questionnaire. Define the structure, layout, and question types according to your research goals.

2. Enable offline mode: Once your survey is ready, enable the CAPI module. This allows the survey to be downloaded and accessed on the mobile devices running the app capi.

3. Download the survey: Using the offline survey app, download the desired survey onto the mobile device. This ensures that the survey is available for offline use, eliminating the need for a continuous internet connection.

4. Conduct the offline survey: With the survey downloaded, you can now conduct face-to-face interviews in offline mode. The offline survey app provides a user-friendly interface to guide interviewers through the survey questions and capture responses electronically.

5. Sync data when online: Once an internet connection is available, synchronize the app with the CAPI software administration interface to transfer the collected data. Data is now uploaded to your account for further analysis and reporting.