The most advanced survey software, now even better.
The survey management software used by the top professionals around the world.
Your questionnaires have no limits.
Designing questionnaires with the IdSurvey professional survey software is extremely easy. Simply use your web survey tools and choose from endless question combinations. Using the survey software, you can easily design even the most complex questionnaires. That's one of the many reasons why IdSurvey is the survey design software professionals love.
Phone, web and face to face software. All together, for real.
With IdSurvey you can collect telephone surveys, web assisted interviews or face to face. Moreover, IdSurvey offers an offline survey tool for personal interviewing that also works in offline mode (no internet connection needed). So, the interview software enables you to mix multiple methodologies with one click. The survey research software offers amazing flexibility for survey distribution. Decide the best strategy for any of your surveys and put it to work with the data collection tool.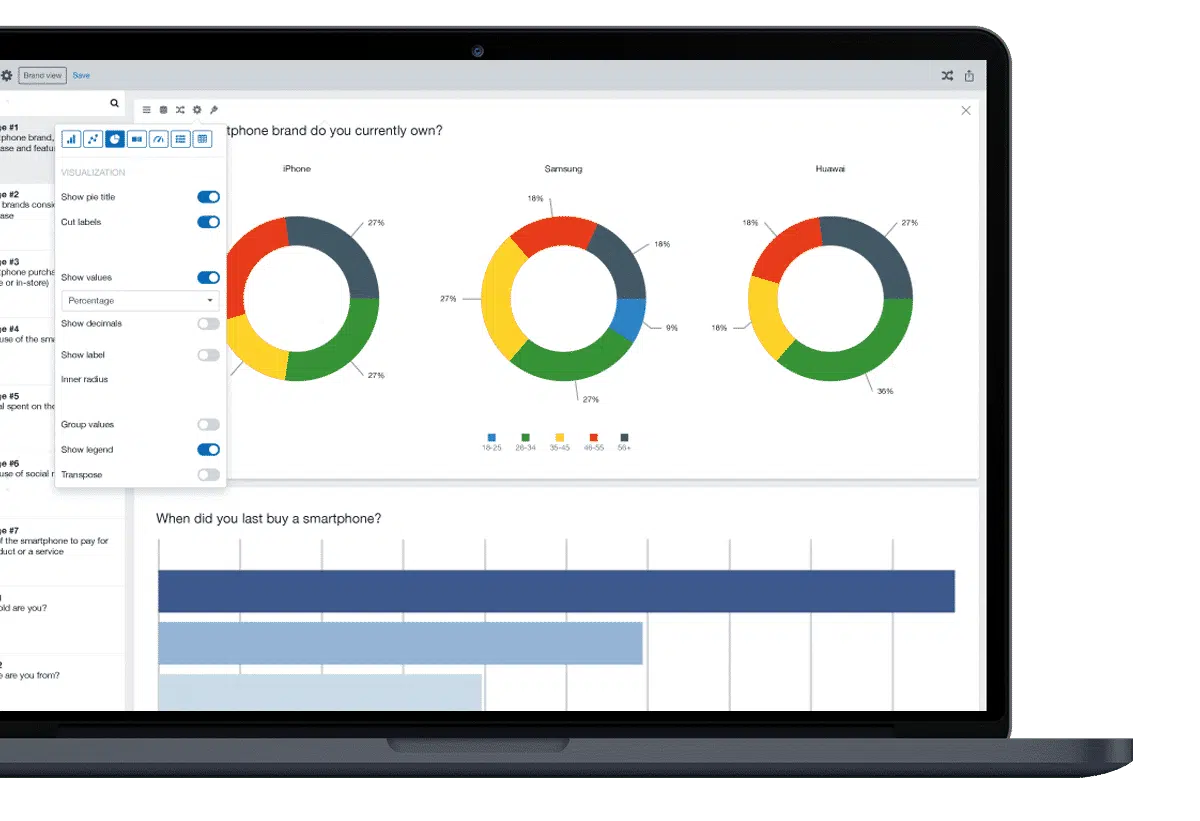 Professional survey management tools for smart analysis.
Check survey progress and results in real time in your market research platform. In fact, all information collected from your survey respondents are immediately available for statistical analysis and reporting. Use charts and data in the online survey software. Alternatively, export data in Excel, SPSS, Triple-S, CSV and Microsoft Access format.
Different survey modes in one software
IdSurvey is the professional
survey software
that enables every one to easy create 
CATI
, 
CAWI
, 
CAPI
 or 
Mixed Mode
 surveys by accessing the survey platform directly from your browser. Thanks to a full range of survey services and tools you can design professional questionnaires, choose the most effective distribution channel for your business, collect data and share survey results in real time with your team.
The most powerful survey software for start-ups, small, medium and large companies.
IdSurvey is a powerful professional survey software. Easy to integrate with third party platforms. IdSurvey meets the needs of research institutes, government and public agencies, and companies of any size looking for an all in one survey software for online, telephone and face to face interviews.
The most powerful survey software, loved by professionals.
Main features of the survey software
Create amazing surveys with ease.
The most powerful survey software, loved by professionals.
Amazing feedback from our customers around the world.
"Great CATI software and excellent customer service - they provide you with customized training and technical assistance to make sure your projects are successful. They offer a fast turnaround to questions and their support team is amazing."
"The most sophisticated software for opinion polls and market research. User friendly interface, no need for additional experts."
"We found in IdSurvey the perfect partner for us. IdSurvey is the software that completely covers our company's needs in terms of data collection. You can choose from a variety of licenses that suit any kind of business, from the smallest to the largest."
"The software combines an easy to use GUI with the possibility to write the questionnaire in code, this makes it fast and easy to create complex surveys. The software feels stable and the uptime on our hosted version has been 100% for us."
"I overcome the limitations I found in the tools I used before IdSurvey. Powerful and easy to use, with a very knowledgeable and flexible support team. The possibilities of use are almost limitless."
"The way IdSurvey handles issues is outstanding. It is very well documented and very fast. The staff is professional and helpful at all times."
"Powerful and easy to use software for collecting data and designing surveys. I love IdSurvey and I would recommend it to anyone doing surveys."
"When we first started using IdSurvey, we were amazed by the clean interface and ease of use of the system. IdSurvey provides us with robust sample management . Programing questionnaires has never been easier!"
Methodologies compared: advantages and disadvantages of data collection via telephone, web and on field. (CATI, CAWI and CAPI)
CATI
CATI methodology
 (Computer Assisted Telephone Interview) improved telephone interviewing process. In fact, a software automatically 
support and lead the interviewer
 during data collection. Thus, they see questions on the screen followed by possible answers. For this reason, it has 
several advantages
:
high quality of collected data: you avoid any interviewer misinterpretation or incorrect question administering;
time reduction: automatic callback managed by the system. The interviewer can also directly insert the data with no use of paper;
more accuracy: being completely automated, there's no room for mistakes or unclear compiling;
complete control on interviews progress: you can check in real time completed, incomplete and dropped interviews.
CAWI
Web revolution has been crucial to market research evolution. This is particularly true for 
CAWI methodology
 (Computer Assisted Web Interviewing). Back in the days, with CAWI you could reach just around 20% of the population. So it was used just for limited purposes. Today, you reach 
wide and generic population
 (an entire country, a multinational corporation…). A link is sent to the respondents via email. They just follow the link to complete the questionnaire.
Main characteristics
 of CAWI method are:
1. the software autonomously send the emails and takes care of their following classification. Finished questionnaires are marked as complete.
2. the respondent is invited via email and clicks on the link to answer the questionnaire. Obviously you need to have all email addresses of your respondents to carry on a CAWI survey.
CAPI
CAPI method (Computer Assisted Personal Interview)
 is the tech evolution of 
Face to Face
 research. An interviewer collects the data in a face to face meeting with the respondent. Using a mobile device or PC even offline, the interviewer carry on the interview and send back the answers 
in real time
. Data are immediately sent to the main server. CAPI is used a lot in 
Mystery Client
 research: mystery clients can discreetely complete their task in their smartphone or mobile device.
Observations on CATI CAWI CAPI Surveys
To sum up, we compared CATI CAWI CAPI Surveys. And each one of them represented a step forward for market research. Now it's time for some observations on the actual effectiveness of these methodologies. CAWI methodology has several advantages but requires all respondents to have an email account and a basic knowledge of computers to correctly complete the questionnaire. CAPI methodology's biggest quality is the real face to face interaction between respondent and interviewer. In contrast, the average number of completed interviews in a working day is usually lower than CATI. CATI methodology guarantees the benefits of the other two techniques above. Specifically, an heterogeneous target and the call agent that can help the respondent during the interview. But CATI is still the most expensive method because of higher costs linked to the call center, the interviewers and phone traffic.
Survey software: FAQ
What is survey software?
Survey software is a tool designed to program survey, distribute them, and analyze data. It provides an efficient and convenient way to gather feedback, opinions, and information from a large number of people.

With survey programs, users can create custom questionnaires with various question types such as multiple-choice, rating and likert scales, open-ended questions, matrix, drop-down menu, and more. These surveys can be distributed through different channels such as web, face-to-face or phone.

Top survey platforms also provide data analysis to help users analyze the survey results. This includes features such as data visualization, statistical analysis, and reporting. With these tools, users can gain insights into the survey data and make informed decisions based on the results.

Research survey software can be used for a variety of purposes, such as market research, customer feedback, employee engagement, academic research, and more.
Why use an online survey software?
Online survey software is a web-based tool that allows users to program survey, distribute, and analyze them online. Online survey tools offer numerous benefits over traditional methods, such as paper-based surveys. Here are some of the key advantages of using online survey software:

1. Time-saving and cost-effective: An online survey data software eliminates the need for printing and mailing paper surveys or using tools like Excel. This makes the survey process more cost-effective and time-saving for researchers, businesses and organizations.

2. Customizable: Online survey software allows users to customize surveys to match their brand and capture the data they need. This includes various question types, survey design options, and branding features.

3. Data analysis: Survey software for research provides advanced data analysis tools, such as data visualization and reports, to help users interpret survey results quickly and easily.

4. Better data security: The best survey platform offers secure data storage and encryption, protecting sensitive information from unauthorized access. This ensures the confidentiality of respondent data and protects businesses and organizations from potential data breaches.

Overall, online survey software is a powerful tool that can help businesses and organizations collect, manage, and analyze data efficiently, saving time and resources while providing valuable insights.
What are different types of survey software?
The survey software market is big and you can find different types of survey tools, each with its own features and functionalities. Here are some of the most common types:

1. Online survey software: Online survey software is designed to allow users to create, distribute, and analyze surveys online. Best online survey tools offer a range of question types, design options, and tools for data analysis and quality control.

2. Mobile survey software: Mobile survey software is designed to create surveys that can be completed on mobile devices. It is optimized for mobile screens and offers features such as location-based surveys and mobile app integrations.

3. Offline survey software: Offline survey software is designed to create surveys that can be completed offline through an app on a mobile device. It is often used in situations where internet connectivity is limited, such as in remote locations or during events.

4. Phone survey software: Phone survey software is designed to conduct surveys over the phone. It automates the process of making calls, recording responses, and managing data. Phone survey software is often used for market research, customer feedback, and political polling.

5. Enterprise survey software: Enterprise survey software is designed for large organizations with complex survey needs. Survey platforms for businesses offer advanced features such as multi-language support, multiple user roles, and advanced data security.

The best survey software – like IdSurvey – combines all these features in one platform so that you don't have to compromise.
Why use survey software?
Survey software is a valuable tool for a variety of organizations to collect feedback and insights from their customers, employees, and stakeholders. It can be used in different situations and industries such as business, government agencies, universities, retail and so on.

Survey software solutions save time and resources by automating the process of data collection, analysis, and reporting, making it a cost-effective investment.

Survey software allows users to reach a larger audience, improve customer satisfaction, and make data-driven decisions based on the insights gained from survey data.
How to use survey software?
When you decide to use a survey program you need to proceed in steps:
Determine your survey goals: Define the purpose of your project, the target audience, and the answers you want to get from them.


Choose a survey software: There are several survey software options available in the market, for example comprehensive multi-mode platforms like IdSurvey, web-only such as SurveyMonkey, Qualtrics, or basic tools like Google Forms. Choose the one that best suits your needs.


Create your survey: Use the survey software to create your online questionnaire by choosing question types, adding rules and conditions, and customizing the design and branding.


Distribute your survey: Use the survey software to distribute your survey to your target audience through various channels such as email, sms, social media, phone or face-to-face.


Collect responses: Once the survey is distributed, you can start collecting responses. The best survey software automatically stores the responses in a database for easy analysis.


Analyze the results: Use the survey tools to analyze the data using charts, graphs, tables, and statistical analysis. Identify trends, patterns, and insights from the data.


Take action: Based on the survey results, communicate and share the results to your stakeholders to help them design a strategy to improve their operations, products or services.
What is paid survey and how to manage it with survey software?
A paid survey is a type of survey where respondents are paid or incentivized to complete a survey. Paid surveys are often conducted by market research companies on behalf of businesses or organizations to gather information about consumer opinions, preferences, and behaviors.

Paid surveys can be conducted through a panel online, through mobile devices, or over the phone, and they typically take anywhere from a few minutes to an hour to complete. The best survey tools in research – like IdSurvey – offers entry and redirect links that will allow you to connect your survey software to the panel for seamless management of paid surveys.