The most advanced software for feedback and insurance survey
Whether you need to monitor insurance agents and employee satisfaction or collect customer feedback, IdSurvey offers the ideal set of tools to conduct all types of surveys in the insurance industry.
The term insurance company survey refers to multiple types of surveys that your company can use to gather valuable feedback allowing you to develop the best strategies for your organization.
IdSurvey allows you to collect interviews via phone, web, and face-to-face, so your insurance survey can reach customers with the methodologies best suited to each survey project.
Insurance survey to improve every aspect of your insurance company
Agent evaluation and employee satisfaction
Monitor and evaluate the effectiveness of your agents' network, discover their difficulties and measure their satisfaction. Collect data, analyze it, and discover strategies to improve your insurance company.
Insurance customer survey
Gather valuable feedback from your customers, find out their needs and shape your offer based on their real requirements so as to increase the chances of finalizing the contract.
Insurance customer experience
Stay connected with your customers by engaging them in valuable insurance surveys improving retention, lowering churn rates and creating new opportunities.
Choose how to do your insurance survey.
With IdSurvey you can choose how to conduct your surveys from three different modes:
The most powerful survey software, loved by professionals.
IdSurvey, the survey insurance software with endless applications
Claims resolution satisfaction
Amazing feedback from our customers around the world.
"Great CATI software and excellent customer service - they provide you with customized training and technical assistance to make sure your projects are successful. They offer a fast turnaround to questions and their support team is amazing."
"The most sophisticated software for opinion polls and market research. User friendly interface, no need for additional experts."
"We found in IdSurvey the perfect partner for us. IdSurvey is the software that completely covers our company's needs in terms of data collection. You can choose from a variety of licenses that suit any kind of business, from the smallest to the largest."
"The software combines an easy to use GUI with the possibility to write the questionnaire in code, this makes it fast and easy to create complex surveys. The software feels stable and the uptime on our hosted version has been 100% for us."
"I overcome the limitations I found in the tools I used before IdSurvey. Powerful and easy to use, with a very knowledgeable and flexible support team. The possibilities of use are almost limitless."
"The way IdSurvey handles issues is outstanding. It is very well documented and very fast. The staff is professional and helpful at all times."
"Powerful and easy to use software for collecting data and designing surveys. I love IdSurvey and I would recommend it to anyone doing surveys."
"When we first started using IdSurvey, we were amazed by the clean interface and ease of use of the system. IdSurvey provides us with robust sample management . Programing questionnaires has never been easier!"
IdSurvey, one software for endless possibilities
IdSurvey offers an extensive set of professional tools for creating, distributing, reviewing, and analyzing all types of surveys. Thanks to the seamless integration of tools and straightforward interface, creating insurance survey is easy even for inexperienced users.
Phone, web, and face-to-face
Reach out to your customers using any channel. Collect interviews via phone, send an email with a link to the questionnaire, or post it on your company's social pages.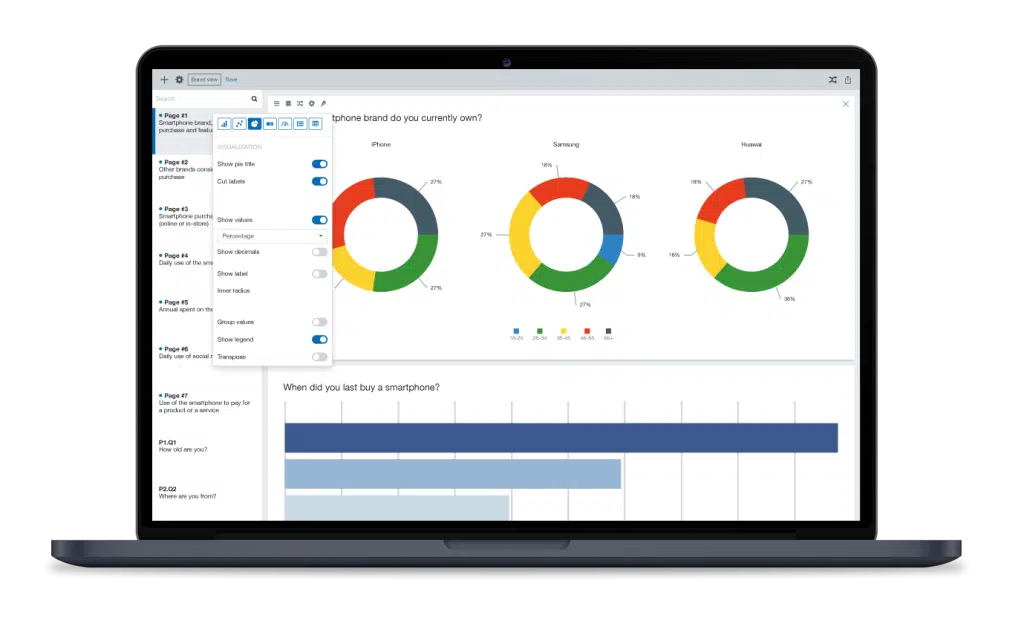 Always perfect, real-time reports
Analyze results with automatic reports updated in real time. Create, customize and share reports with the most advanced and user-friendly tool on the market.
Customize your surveys with your brand's style
Choose one of the proposed themes, upload your logo and customize every graphic aspect of the questionnaire according to the colors and style of your insurance company.
IdSurvey is the ideal solution to improve your insurance company and increase sales with extremely low costs.
Flexible licensing and scalable costs
IdSurvey is offered with scalable licenses based on the number of complete interviews or the number of telephone agents, without fixed costs. This allows us to formulate the most suitable offering for your needs with minimal investment.

Increase your business' sales
Insurance surveys allow you to obtain information at every stage of contact with customers. The information you gather show the reasons for customer churn or conversion, showing you areas to work on to increase your company's sales.
The most powerful survey software, loved by professionals.