Listen and win the trust of your customers with our financial survey software
Collect and analyze customer data quickly and accurately with IdSurvey, the most appreciated survey software by financial providers. Make informed decisions, and improve market competitiveness. Knowing your customers' opinions will make them feel heard, increasing satisfaction and loyalty toward your products and brand.
IdSurvey helps your financial institution to:
Collect feedback
Collect data online, offline and via phone, identify key drivers that affect user experience and improve your customers' experience by building loyalty over time.
Build customer loyalty
IdSurvey will enable you to gather valuable information about your customers, understand their needs and expectations, and use this information to improve your products and services.
Make informed decisions
Analyze the key success points of your services or products. Make evidence-based decisions that will enable you to create products and services that meet your customers' true needs.
One software, endless possibilities.
With IdSurvey, you choose how to distribute your surveys and feedback collection in the financial services industry: choose from online, telephone or face-to-face surveys, including mixed mode.
The most powerful survey software, loved by professionals.
Build strong relationships with customers in Finance to increase their long-term loyalty and value
It is important to collect, analyze, and convert financial survey data into useful information to identify touch points with your customers and optimize the user experience. By using a single scalable and secure financial survey software, you will be able to understand your customers' behaviors, needs and preferences, and use the information to improve their experience. IdSurvey is a secure and flexible software that can be adacted to your evolving business needs.
Product and services satisfaction
Identify strengths and weaknesses
Engagement of new clients
Amazing feedback from our customers around the world.
"Great CATI software and excellent customer service - they provide you with customized training and technical assistance to make sure your projects are successful. They offer a fast turnaround to questions and their support team is amazing."
"The most sophisticated software for opinion polls and market research. User friendly interface, no need for additional experts."
"We found in IdSurvey the perfect partner for us. IdSurvey is the software that completely covers our company's needs in terms of data collection. You can choose from a variety of licenses that suit any kind of business, from the smallest to the largest."
"The software combines an easy to use GUI with the possibility to write the questionnaire in code, this makes it fast and easy to create complex surveys. The software feels stable and the uptime on our hosted version has been 100% for us."
"I overcome the limitations I found in the tools I used before IdSurvey. Powerful and easy to use, with a very knowledgeable and flexible support team. The possibilities of use are almost limitless."
"The way IdSurvey handles issues is outstanding. It is very well documented and very fast. The staff is professional and helpful at all times."
"Powerful and easy to use software for collecting data and designing surveys. I love IdSurvey and I would recommend it to anyone doing surveys."
"When we first started using IdSurvey, we were amazed by the clean interface and ease of use of the system. IdSurvey provides us with robust sample management . Programing questionnaires has never been easier!"
IdSurvey: the complete solution for your financial survey
Make the most of all the IdSurvey tools and turn every customer touch point into new opportunities for your financial institution
Collect data from multiple sources
IdSurvey allows you to select the most appropriate method for your project, web, telephone and face-to-face, gathering data from multiple sources. It includes advanced tools to customize and control every aspect of deployment.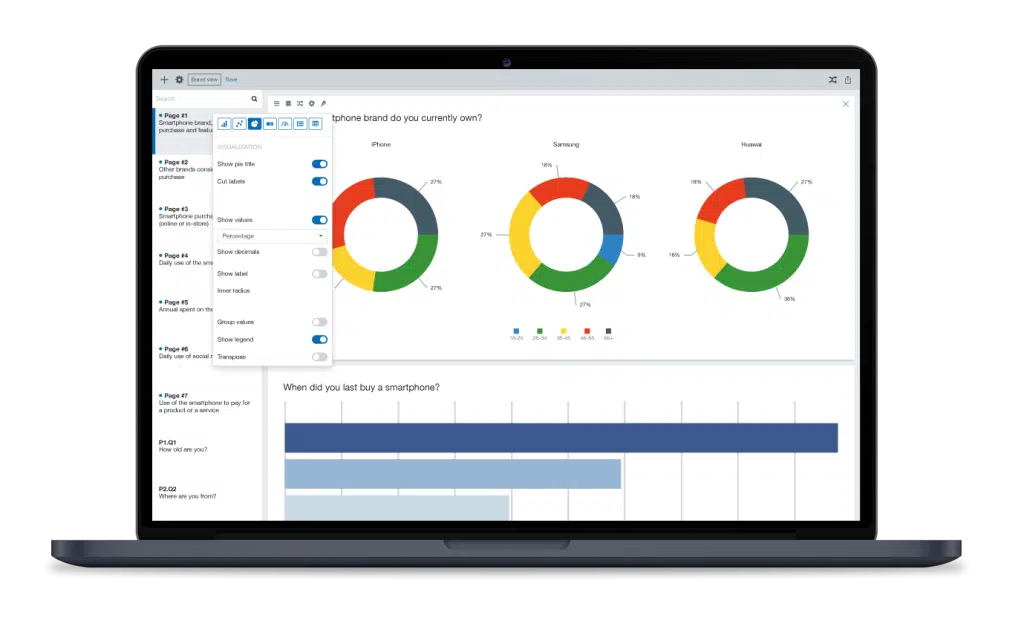 Analyze data in real-time
IdSurvey allows you to generate customized reports and dashboards based on your survey results. Data processing occurs in real time, ensuring that your reports are always up-to-date.
PCI DSS certified hosting
IdSurvey's OnCloud infrastructure is designed to provide security and very high service efficiency. It ensures a smooth user experience and high service availability, even during peak usage.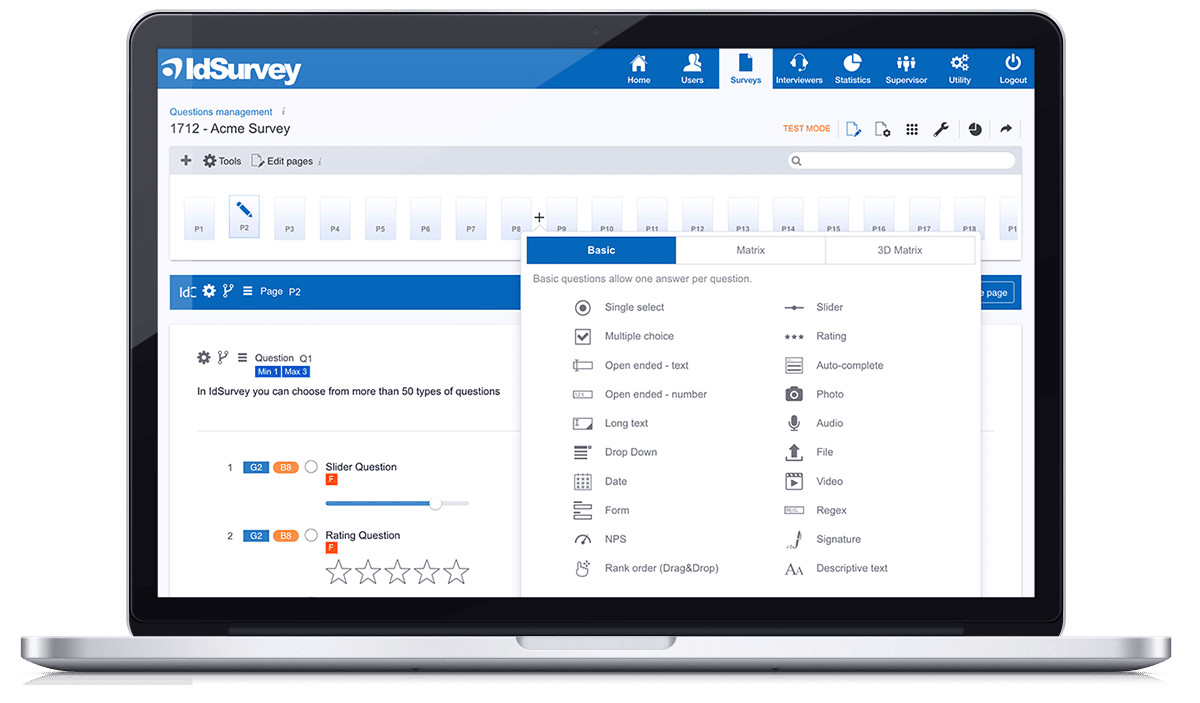 Easy to use, no programming
IdSurvey allows you to quickly and easily create a financial survey questionnaire, without the need to write code. You can edit or add text, choose from over 50 question types, and implement even the most complex rules in just a few clicks.
Integrations and customizations
The IdSurvey team is always available to meet your needs for customization, development of new features, and integrations with external software. We analyze your needs and create specific functionality tailored to your business.
The most powerful survey software, loved by professionals.