Customer Experience Software
Thanks to Customer Experience survey software and Voice of the Customer data collection you can create a solid customer experience strategy. You will maximize customer loyalty, engagement, and satisfaction while increasing brand reputation. Customer experience, or CX, is a key aspect for any company that wants to create lasting relationships with its customers. Creating a positive and personalized buying experience has become the main point of differentiation for many companies in an increasingly customer-centric world.
The focus is on the customer
IdSurvey provides a comprehensive Customer Experience platform that enables you to optimize touch points along the customer journey, delivering personalized experiences through customer data analytics. With IdSurvey you can uncover valuable insights that you can use to take targeted, actionable steps to improve the overall CX.
Voice of the customer data collection to improve each touchpoint
With IdSurvey and CX strategies, you can improve the customer experience at every touch point, whether online, in-store, or post-sale interactions. By analyzing customer data, you can identify the strengths and weaknesses of the buying experience and take targeted actions to improve it.
voice of the customer survey to know customer opinions
Voice of the customer, or VoC, is the part of the customer experience that aims to collect customer opinions. With IdSurvey you can collect and analyze customer opinions through specific Voice of the Customer surveys to find out their needs, expectations and suggestions. With this valuable data, your company can improve retention and increase the chances of success in the marketplace.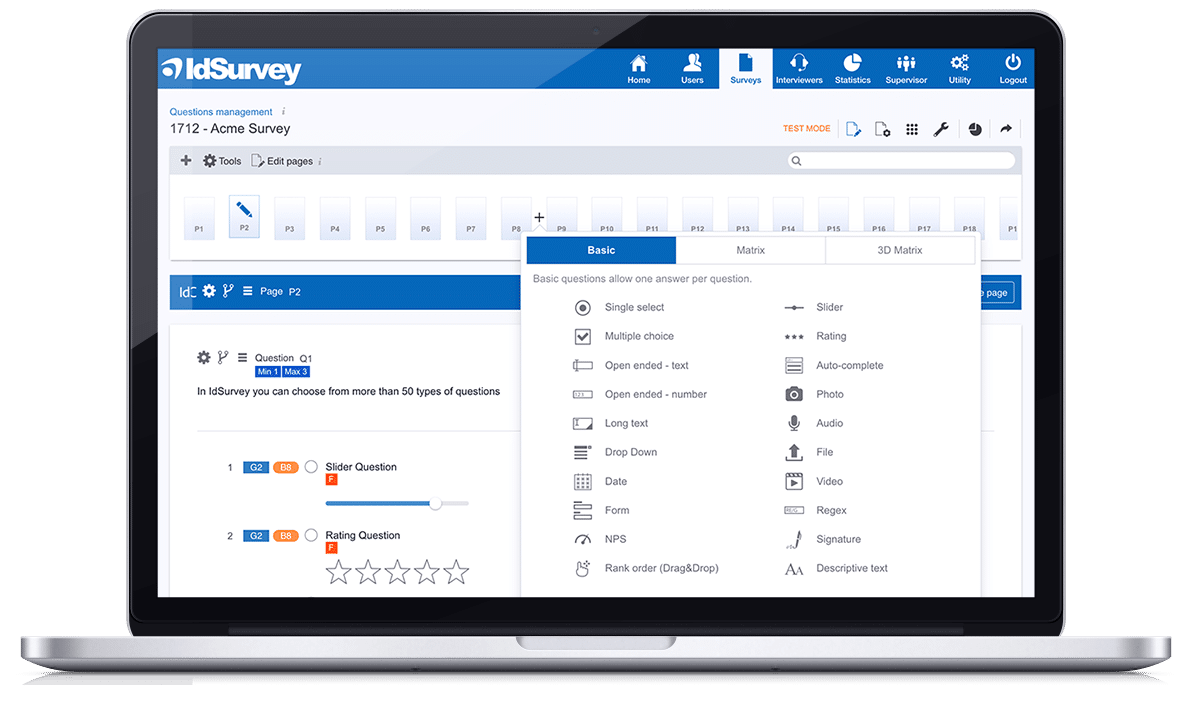 The most powerful survey software, loved by professionals.
Voice of the customer survey, endless possibilities for growth
Amazing feedback from our customers around the world.
"Great CATI software and excellent customer service - they provide you with customized training and technical assistance to make sure your projects are successful. They offer a fast turnaround to questions and their support team is amazing."
"The most sophisticated software for opinion polls and market research. User friendly interface, no need for additional experts."
"We found in IdSurvey the perfect partner for us. IdSurvey is the software that completely covers our company's needs in terms of data collection. You can choose from a variety of licenses that suit any kind of business, from the smallest to the largest."
"The software combines an easy to use GUI with the possibility to write the questionnaire in code, this makes it fast and easy to create complex surveys. The software feels stable and the uptime on our hosted version has been 100% for us."
"I overcome the limitations I found in the tools I used before IdSurvey. Powerful and easy to use, with a very knowledgeable and flexible support team. The possibilities of use are almost limitless."
"The way IdSurvey handles issues is outstanding. It is very well documented and very fast. The staff is professional and helpful at all times."
"Powerful and easy to use software for collecting data and designing surveys. I love IdSurvey and I would recommend it to anyone doing surveys."
"When we first started using IdSurvey, we were amazed by the clean interface and ease of use of the system. IdSurvey provides us with robust sample management . Programing questionnaires has never been easier!"
Everything you need for customer experience, in one software
The most powerful survey software, loved by professionals.
What is Customer Experience?
Customer experience ( also called CX) refers to the overall perception and interaction that a customer has with a company or brand during their entire journey, from initial contact to post-purchase support. It includes every touchpoint that a customer has with a company, including marketing, sales, customer service, and product usage.

Customer experience can be measured by several factors, such as customer satisfaction, loyalty, and advocacy. Companies that prioritize customer experience tend to focus on creating a positive experience for customers at every stage of their journey. This involves understanding customer needs and expectations, providing personalized interactions, delivering high-quality products and services, and offering quick and effective support.

In today's competitive market, customer experience has become a key differentiator for companies looking to stand out and build long-lasting relationships with their customers.
What is Voice of the Customer?
Voice of the Customer (VoC) refers to the process of capturing and analyzing the feedback and preferences of customers about their experiences with a product, service, or company. It involves gathering customer feedback through various channels such as surveys, customer reviews, customer service interactions, social media, and other forms of customer feedback.

The aim of VoC is to better understand the needs, wants, and expectations of customers, and to use that information to improve the customer experience. By listening to the voice of the customer, companies can identify areas for improvement, innovate new products or services, and build stronger relationships with their customers.

Overall, Voice of the Customer is an important process for companies looking to build customer-centric strategies and improve their overall business performance.
How to collect data for Customer Experience and Voice of the Customer?
There are several methods for collecting data for customer experience (CX) and Voice of the Customer (VoC). Here are some of the most common ways:

Surveys: Surveys are a popular method for collecting data on customer experience and VoC. Companies can use a variety of survey types, such as Net Promoter Score (NPS), Customer Satisfaction (CSAT), and Customer Effort Score (CES), to measure customer sentiment and gather feedback on specific aspects of the customer experience.

Online reviews: Online reviews on sites such as Yelp, Google, or Amazon can provide valuable insights into the customer experience. Companies can monitor and analyze reviews to identify areas for improvement or areas of strength.

Social media: Social media platforms such as Twitter, Facebook, and Instagram provide a wealth of information on customer sentiment and feedback. Companies can monitor social media for customer comments and feedback, and use social listening tools to analyze the data.

Customer feedback forms: Companies can provide feedback forms on their website or in-store to gather feedback on the customer experience. These forms can be open-ended or specific to certain aspects of the experience.

Customer service interactions: Customer service interactions, such as phone calls or chat sessions, provide an opportunity to gather feedback directly from customers. Companies can record and analyze these interactions to identify areas for improvement or areas of strength.

Focus groups: Focus groups involve gathering a small group of customers to discuss their experiences and opinions about a product, service, or company. This method can provide in-depth insights into the customer experience.

Overall, there are many ways to collect data for customer experience and VoC. It's important to use a variety of methods to get a well-rounded view of the customer experience and to gather feedback from different customer segments.
The most powerful survey software, loved by professionals.