Get to really know your customers with retail customer survey
Fegardless of size of the business, knowing customer feedback is critical. Even in the retail sector, customer experience is a crucial factor in maintaining and growing brand business. In fact, knowing the customer at every touch point – before, during, and after the sale – is crucial to discover the satisfaction rate at every step of the purchase.
Analyzing sales data only does not allow you to know customer satisfaction and experience. With retail customer experience survey you can collect customer feedback. Thanks to retail survey questions, brands and stores will know where to focus to increase loyalty, reputation and, therefore, increase sales.
IdSurvey allows your brand to:
Know the reputation of your brand
Discover the real reputation of your brand by asking customer feedback. Thanks to retail customer survey you will understand the main motivations of those who do not have a good consideration and you can find the strategy to turn them into promoters of your brand.
Know the customer experience in individual stores
Discover the customer experience at each store within your network. Identify strengths and adopt them at lower performance stores. Customer survey questions for retail stores are a never-ending source of information to optimize all aspects of the customer experience and increase sales.
Knowing the efficiency of point-of-sale staff
With retail customer experience survey and mystery shopping you can learn about the friendliness of the staff in each of your brand's stores. You can also evaluate cleanliness, product display, and more.
Choose how to conduct your retail surveys.
With IdSurvey you can choose how to conduct each type of survey for your brand, from questionnaire distribution to data collection, among three different modes. You can also send the survey invitation via SMS, email or social links, or by embedding a QR-code on your point-of-sale receipts.
The most powerful survey software, loved by professionals.
IdSurvey, the survey retail software, customer shopping experience survey, and more
With IdSurvey you can conduct online, telephone, face-to-face, and mystery shopping surveys. All methodologies available for any type of retail survey.
Customer shopping experience survey
Customer experience survey
Employee satisfaction survey
Amazing feedback from our customers around the world.
"Great CATI software and excellent customer service - they provide you with customized training and technical assistance to make sure your projects are successful. They offer a fast turnaround to questions and their support team is amazing."
"The most sophisticated software for opinion polls and market research. User friendly interface, no need for additional experts."
"We found in IdSurvey the perfect partner for us. IdSurvey is the software that completely covers our company's needs in terms of data collection. You can choose from a variety of licenses that suit any kind of business, from the smallest to the largest."
"The software combines an easy to use GUI with the possibility to write the questionnaire in code, this makes it fast and easy to create complex surveys. The software feels stable and the uptime on our hosted version has been 100% for us."
"I overcome the limitations I found in the tools I used before IdSurvey. Powerful and easy to use, with a very knowledgeable and flexible support team. The possibilities of use are almost limitless."
"The way IdSurvey handles issues is outstanding. It is very well documented and very fast. The staff is professional and helpful at all times."
"Powerful and easy to use software for collecting data and designing surveys. I love IdSurvey and I would recommend it to anyone doing surveys."
"When we first started using IdSurvey, we were amazed by the clean interface and ease of use of the system. IdSurvey provides us with robust sample management . Programing questionnaires has never been easier!"
A set of perfectly integrated advanced tools
With IdSurvey you have a variety of tools for creating retail customer survey and all kinds of surveys. From designing and distributing questionnaires to analyzing the collected data and generating reports in real time.
More than 50 retail survey questions
IdSurvey provides a wide variety of question types. From closed-ended questions, to open-ended questions, from rating questions with multiple types of graphical representations to slider questions. No limitations on your questionnaires.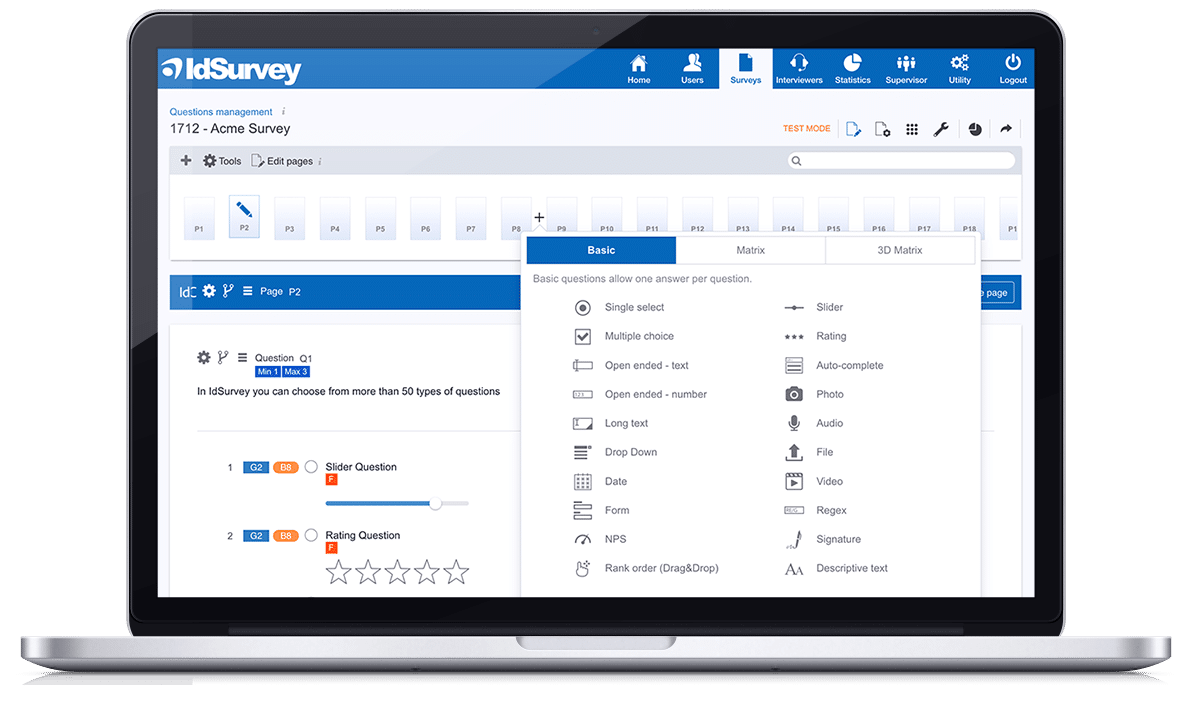 NPS® question and analysis
The NPS® question allows you to instantly analyze brand reputation and learn about both promoting and detracting customers, so you can implement strategies to improve your brand consideration.
Take a photo
The photo-taking question is essential for mystery shopping activities. The undercover customer can then take photos of the storefront, product layout, cleanliness of the premises, and anything else you need to evaluate your brand's store.
Email campaigns
Send survey invitations to a list of customers and manage reminders via email campaigns.
Create smart campaigns to automatically email the customer only when an event occurs.
SMS campaigns
Increase the number of respondents by benefiting from the immediacy of SMS. Manage SMS campaigns with the same simplicity and flexibility as email campaigns, including smart SMS campaigns.
QR-code ready
In IdSurvey you can create a customer survey directly from URL even without preloading the information. You can add a QR-Code with the customer's data to the receipt for immediate and unique access.
Social link sharing
Post the link to the wide audience that follows your brand's social profile or page. Discover potential customers and find strategies to lead them to your outlets.

Automatic and customizable reporting
Analyze the results of retail customer experience survey with IdSurvey's out-of-the-box reporting and analysis tool. View the automated report, customize it and share it with your team.
Customizable themes
Adapt the look and feel of your questionnaires and email invitations to your brand colors and style. Add your logo and personalize the customers' experience to enhance and make your brand even stronger.
Get the most out of feedback
Retail surveys are a valuable tool for your brand. Knowing employee and customer feedback and finding the right strategies to lower the churn rate and the influence of competitors on your business is critical to your retention rate.
Il survey software più apprezzato dai professionisti.