IdSurvey, the academic research software for schools and colleges
Academic research tools for education
Survey software can be an invaluable tool for colleges and universities that seek to gather feedback from their students, faculty, and administrative staff. By using academic research software, it is possible to create surveys that are specifically tailored to meet the needs of your institution, and to collect data in a streamlined and efficient manner. Whether you are seeking to gather feedback from your students, evaluate the effectiveness of your programs, or conduct research into a particular area of interest, IdSurvey can help you to achieve your goals quickly and efficiently. By streamlining the survey creation and data analysis process, this software can help you to save time and resources while producing high-quality, actionable data that can inform your decisions and drive your institution forward.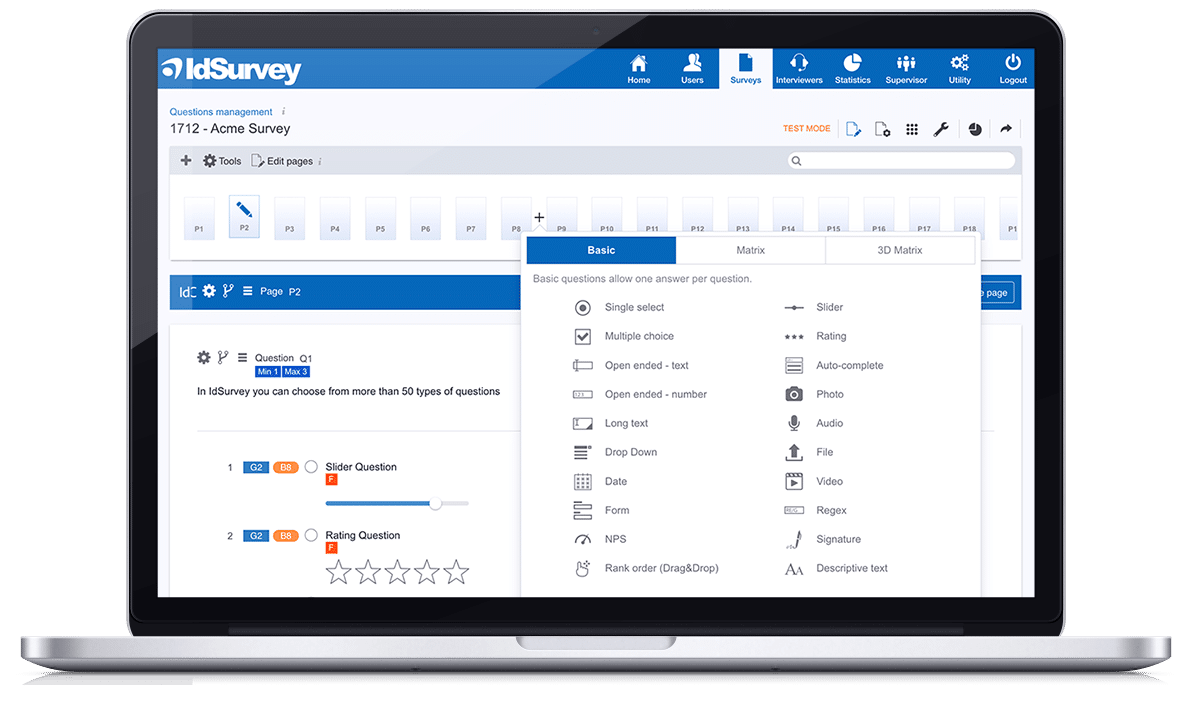 Using a software for academic survey research
Academic research often relies on surveys as a valuable tool to gather both quantitative and qualitative data on the phenomena being studied. Surveys are a popular method used to collect information on a broad range of topics such as opinions, attitudes, behaviors, values, and knowledge. The data collected from surveys can be used to test hypotheses, establish correlations, and identify patterns and trends in the data. Academic surveys can be used in a variety of academic research contexts, including but not limited to psychology, sociology, economics, political science, and many others. For example, in the field of psychology, surveys can be used to gather information on mental health, personality traits, and attitudes towards various psychological concepts. In the field of economics, surveys can be used to collect data on consumer preferences, spending habits, and market trends. In the field of political science, surveys can be used to gather information on voting patterns, public opinion, and political ideology. IdSurvey is a powerful software tool that allows you to create professional and complex questionnaires to collect data on any area of your academic research.
The most powerful survey software, loved by professionals.
Academic research software for all needs
Student Satisfaction Survey
Measure student satisfaction with a wide range of services offered by the academic institution, such as facilities, services, internship support, and so on. Improve the student experience by enabling managers to detect any problems and improvements that need to be made to the services offered by the academic institution.
Staff satisfaction survey
Gather information on the needs, expectations, opinions and suggestions of academic staff to improve the working environment and services offered by the institution. Quickly detect any problems and improvements to be made to the working environment and services offered by the school or college.
Academic research survey
Use web, telephone or face-to-face surveys to study a wide range of topics for your academic research, such as mental health, perceptions of human rights, political views, drug use, food preferences, purchasing habits, and so on.
Academic research software with endless features:
Amazing feedback from our customers around the world.
"Great CATI software and excellent customer service - they provide you with customized training and technical assistance to make sure your projects are successful. They offer a fast turnaround to questions and their support team is amazing."
"The most sophisticated software for opinion polls and market research. User friendly interface, no need for additional experts."
"We found in IdSurvey the perfect partner for us. IdSurvey is the software that completely covers our company's needs in terms of data collection. You can choose from a variety of licenses that suit any kind of business, from the smallest to the largest."
"The software combines an easy to use GUI with the possibility to write the questionnaire in code, this makes it fast and easy to create complex surveys. The software feels stable and the uptime on our hosted version has been 100% for us."
"I overcome the limitations I found in the tools I used before IdSurvey. Powerful and easy to use, with a very knowledgeable and flexible support team. The possibilities of use are almost limitless."
"The way IdSurvey handles issues is outstanding. It is very well documented and very fast. The staff is professional and helpful at all times."
"Powerful and easy to use software for collecting data and designing surveys. I love IdSurvey and I would recommend it to anyone doing surveys."
"When we first started using IdSurvey, we were amazed by the clean interface and ease of use of the system. IdSurvey provides us with robust sample management . Programing questionnaires has never been easier!"
The most powerful survey software, loved by professionals.
What is academic research?
Academic research is conducted by researchers who are typically affiliated with academic institutions such as universities, research centers, and institutes. The research process involves identifying a research question or problem, conducting a literature review to understand existing research on the topic, designing and carrying out research studies to collect data, analyzing the data using appropriate methods, and reporting the findings in academic publications such as journal articles, books, or conference proceedings.
Why academic research is important?
Academic research is important because it helps advance knowledge in various fields. Through research, scholars and researchers can uncover new information, develop new theories, and test existing ones. Additionally, academic research can help solve real-world problems by investigating and analyzing issues in areas such as health, education, technology, and social welfare. It requires critical thinking and analytical skills, which are transferable to other areas of life, and supports educational goals by allowing students to engage in original research and develop their research skills.
How to do academic research with a survey software?
Using a survey software for academic research can be an effective way to collect data and analyze responses. Here are some steps to follow:

Identify your research question.
Choose a suitable survey design.
Create the survey using the survey software.
Test the survey with a small sample of participants.
Administer the survey to your target population using the survey software.
Analyze the data using the survey software's data analysis tools.
Interpret and report the findings in an academic publication.

By following these steps, you can conduct academic research using a survey software effectively and efficiently, resulting in reliable and valuable data.
How to make a professional academic research survey questionnaire?
Designing a professional academic research survey questionnaire can be challenging, but by following these guidelines, you can create an effective survey that produces reliable and valuable data:

Define your research question: Before creating a survey questionnaire, you need to define your research question or problem. This will help you design questions that collect the data you need.

Determine the survey format: Consider the type of survey you want to use, such as online, phone, or paper. Each format has its pros and cons, so choose the one that best suits your research goals and target audience.