Call center survey software
Manage your projects with the call center survey software professionals love
A call center survey is a form of survey that allows companies to collect feedback through the activities of their call centers.
IdSurvey is the tool that you can use to gather valuable information about your customers' satisfaction.
You can conduct professional surveys of any kind thanks to the many included features, keep an eye on the work of your phone agents at all times, improve the productivity of your call center, and ensure the quality of the collected data.
 With a call center customer satisfaction survey you can always have valuable insights into customer satisfaction and ensure success in any kind of business.
IdSurvey helps your call center survey to:
Collect real and reliable data
Through telephone interviews and the presence of agents, you are able to collect reliable and verified data that will provide you with insights critical to your business.
Monitor customer satisfaction
Keep track of customer satisfaction at all times. The data collected by the call center are immediately available to supervisors and allow you to monitor performance in real time.
Improve your call center's performance
Evaluates the performance of call center agents, identifies problems and opportunities for improvement, and creates action plans to improve the customer experience.
Discover IdSurvey for your call center surveys.
IdSurvey is a survey platform that enables companies to easily create and distribute call center surveys. With IdSurvey, you can create your call center survey questions, distribute them to customers, and collect the results efficiently. Discover the software most valued by professionals with a free, no-obligation demo.
The most powerful survey software, loved by professionals.
IdSurvey: the call center survey software with endless features
With IdSurvey you can conduct call center surveys by taking advantage of hundreds of features in the CATI module:
Amazing feedback from our customers around the world.
"Great CATI software and excellent customer service - they provide you with customized training and technical assistance to make sure your projects are successful. They offer a fast turnaround to questions and their support team is amazing."
"The most sophisticated software for opinion polls and market research. User friendly interface, no need for additional experts."
"We found in IdSurvey the perfect partner for us. IdSurvey is the software that completely covers our company's needs in terms of data collection. You can choose from a variety of licenses that suit any kind of business, from the smallest to the largest."
"The software combines an easy to use GUI with the possibility to write the questionnaire in code, this makes it fast and easy to create complex surveys. The software feels stable and the uptime on our hosted version has been 100% for us."
"I overcome the limitations I found in the tools I used before IdSurvey. Powerful and easy to use, with a very knowledgeable and flexible support team. The possibilities of use are almost limitless."
"The way IdSurvey handles issues is outstanding. It is very well documented and very fast. The staff is professional and helpful at all times."
"Powerful and easy to use software for collecting data and designing surveys. I love IdSurvey and I would recommend it to anyone doing surveys."
"When we first started using IdSurvey, we were amazed by the clean interface and ease of use of the system. IdSurvey provides us with robust sample management . Programing questionnaires has never been easier!"
IdSurvey is the secret to optimizing your call center surveys. An omnichannel solution to optimize your results and the work of your telephone operators.
Scalable licenses
IdSurvey has a flexible and cost-effective offer that allows you to increase and decrease the number of stations in your call center easily and immediately. Work more and spend less with our phone survey offer!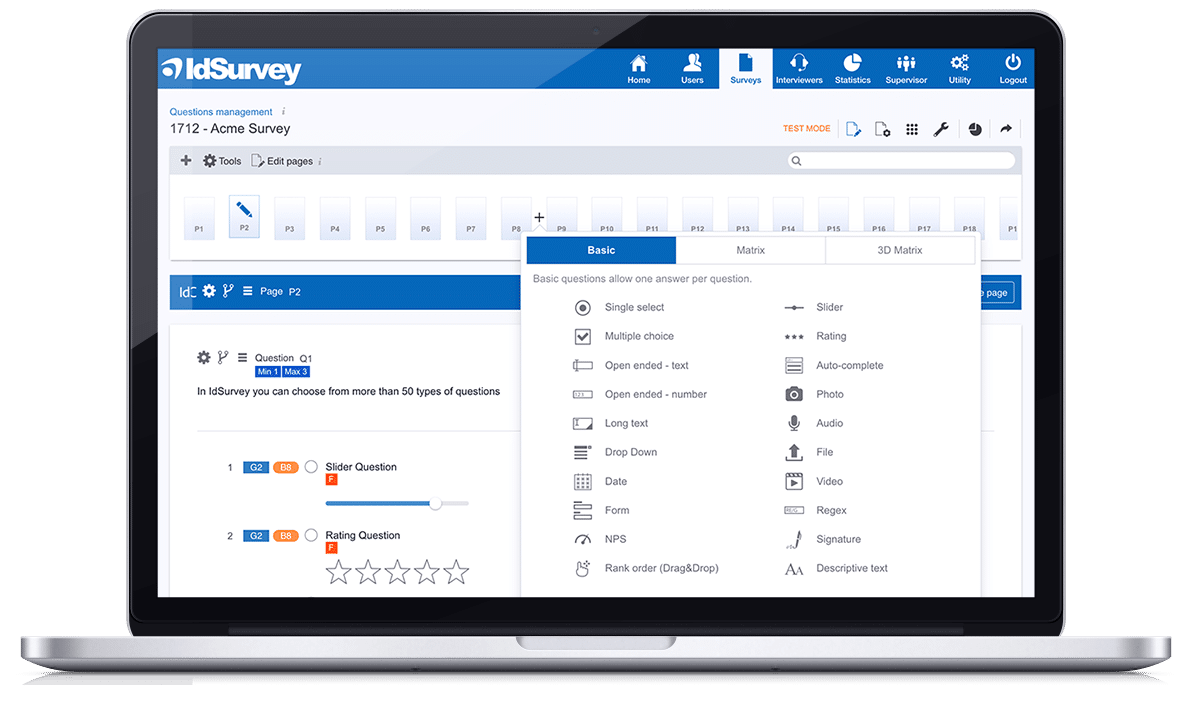 Real-time monitoring
Monitor your call center performance in real time with the Supervisor Dashboard. Optimize your agents' work by tracking more than 80 metrics and metadata in real time, watching the agents' work window with Watcher, and communicating with integrated chat.
No downtime
Start working with IdSurvey and IdTalk dialer immediately. With the built-in softphone, your interviewers can immediately start making calls - even remotely -without having to install any additional software.
The most powerful survey software, loved by professionals.