Data analysis with IdSurvey
IdSurvey is a professional data analysis software with intuitive and powerful solutions for collecting, managing, and interpreting information. With a wide range of tools and features, IdSurvey transforms raw data into valuable insights, enabling users to make informed and strategic decisions.
Survey data analysis
Analyzing questionnaire data with IdSurvey enables you to identify the best insights and strategies in just a few minutes. The data analysis tool provides a wide range of customizable metrics, charts, and data tables. With IdSurvey's data analysis tools, you can forecast future results and make informed decisions based on real data.
Flexibility with no compromise
With IdSurvey you can create multiple custom dashboards and share them with your colleagues and contractors, so anyone can stay up-to-date with real-time results of your surveys. If you prefer, you can also export raw data, aggregated and processed data, graphs or the entire report to analyze and layout the results with third-party tools. IdSurvey's flexibility makes it the best software for any survey data analysis task.
Cross-tab
All the power of crosstabs in an immediate and versatile interface. You can cross tabulate any question or respondent variable and choose metrics to discover and analyze the distribution of the data. You can set up multiple nested variables for detailed analysis of response frequency for each category and subcategory. Locate mean, median, standard deviation, and more.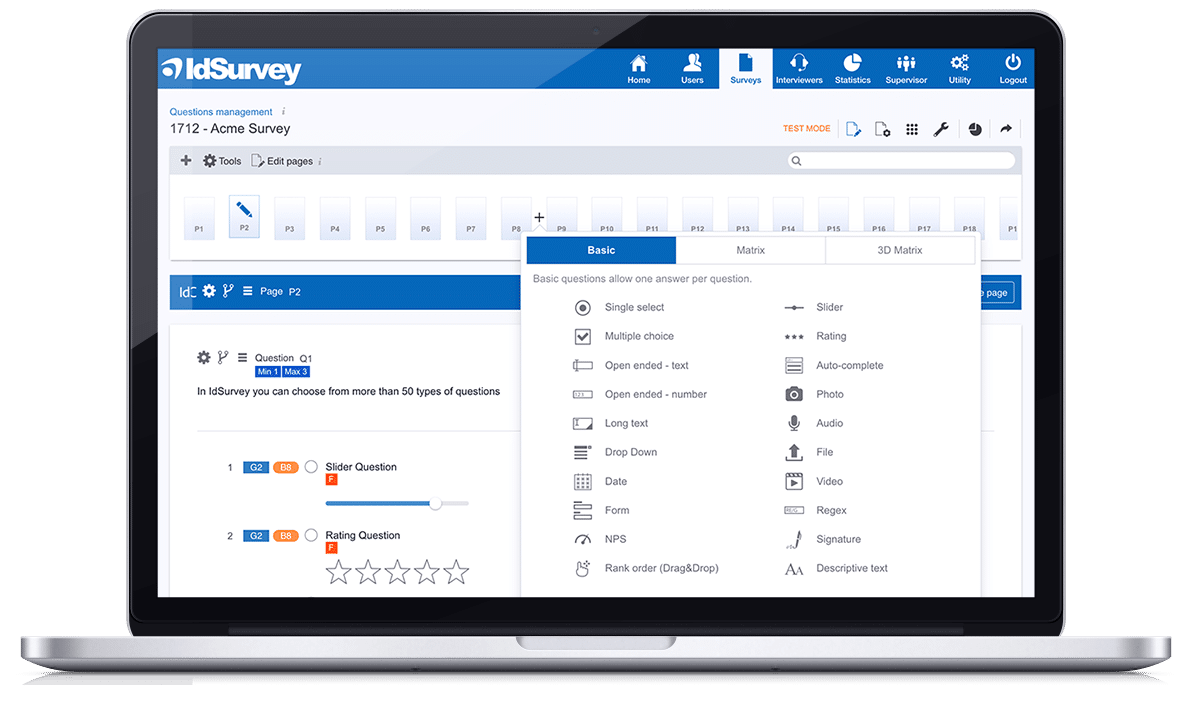 The most powerful survey software, loved by professionals.
Create, distribute, collect and analyze data with IdSurvey
Amazing feedback from our customers around the world.
"Great CATI software and excellent customer service - they provide you with customized training and technical assistance to make sure your projects are successful. They offer a fast turnaround to questions and their support team is amazing."
"The most sophisticated software for opinion polls and market research. User friendly interface, no need for additional experts."
"We found in IdSurvey the perfect partner for us. IdSurvey is the software that completely covers our company's needs in terms of data collection. You can choose from a variety of licenses that suit any kind of business, from the smallest to the largest."
"The software combines an easy to use GUI with the possibility to write the questionnaire in code, this makes it fast and easy to create complex surveys. The software feels stable and the uptime on our hosted version has been 100% for us."
"I overcome the limitations I found in the tools I used before IdSurvey. Powerful and easy to use, with a very knowledgeable and flexible support team. The possibilities of use are almost limitless."
"The way IdSurvey handles issues is outstanding. It is very well documented and very fast. The staff is professional and helpful at all times."
"Powerful and easy to use software for collecting data and designing surveys. I love IdSurvey and I would recommend it to anyone doing surveys."
"When we first started using IdSurvey, we were amazed by the clean interface and ease of use of the system. IdSurvey provides us with robust sample management . Programing questionnaires has never been easier!"
The most powerful survey software, loved by professionals.