The most appreciated software for government and public sector surveys
The collection of information through government and demographic surveys, opinion and political polls allows government bodies, public administration, political entities or government agencies to quickly know the needs of their users and to establish strong relationships with citizens, voters, patients and employees. With the data collection software for public opinion surveys you can drive online, by phone and offline polls in a quick, safe and effective way.
Choose the survey methodology that better fits with your public research
A platform for any type of public survey
With IdSurvey you can carry out public surveys online, by phone and offline, for the most diverse purposes:
Demographic researches.
Government survey.
Health survey.
Political polls.
Presidential polls.
Opinion polls.
Statistical surveys.
Analysis of services to the citizen.
Geolocated services.
Patient satisfaction.
Medical statistics.
Tourism and leisure.
Social research.
Public services satisfaction.
Choose the survey methodology that better fits with your public research
With IdSurvey you can choose the most suitable methodology for your public survey, from the distribution of the questionnaire to data collection, simply by activating the software modules with a click:
The most powerful survey software, loved by professionals.
Amazing feedback from our customers around the world.
"Great CATI software and excellent customer service - they provide you with customized training and technical assistance to make sure your projects are successful. They offer a fast turnaround to questions and their support team is amazing."
"The most sophisticated software for opinion polls and market research. User friendly interface, no need for additional experts."
"We found in IdSurvey the perfect partner for us. IdSurvey is the software that completely covers our company's needs in terms of data collection. You can choose from a variety of licenses that suit any kind of business, from the smallest to the largest."
"The software combines an easy to use GUI with the possibility to write the questionnaire in code, this makes it fast and easy to create complex surveys. The software feels stable and the uptime on our hosted version has been 100% for us."
"I overcome the limitations I found in the tools I used before IdSurvey. Powerful and easy to use, with a very knowledgeable and flexible support team. The possibilities of use are almost limitless."
"The way IdSurvey handles issues is outstanding. It is very well documented and very fast. The staff is professional and helpful at all times."
"Powerful and easy to use software for collecting data and designing surveys. I love IdSurvey and I would recommend it to anyone doing surveys."
"When we first started using IdSurvey, we were amazed by the clean interface and ease of use of the system. IdSurvey provides us with robust sample management . Programing questionnaires has never been easier!"
A powerful, easy and intuitive tool
It is extremely easy to create and manage surveys with IdSurvey. You will not need any programming skill or to install any kind of software. Simply open the browser and pick among the endless combinations of questions. The rating, slider drag & drop and score questions will make your questionnaire fun and intuitive. You can also create, collaborate and share the survey results with reports and dashboards updated in real time.
Give us your public research projects
Sometimes you need to delegate your projects in order to focus your energies on other initiatives. So the IdSurvey team will support you every step of the way.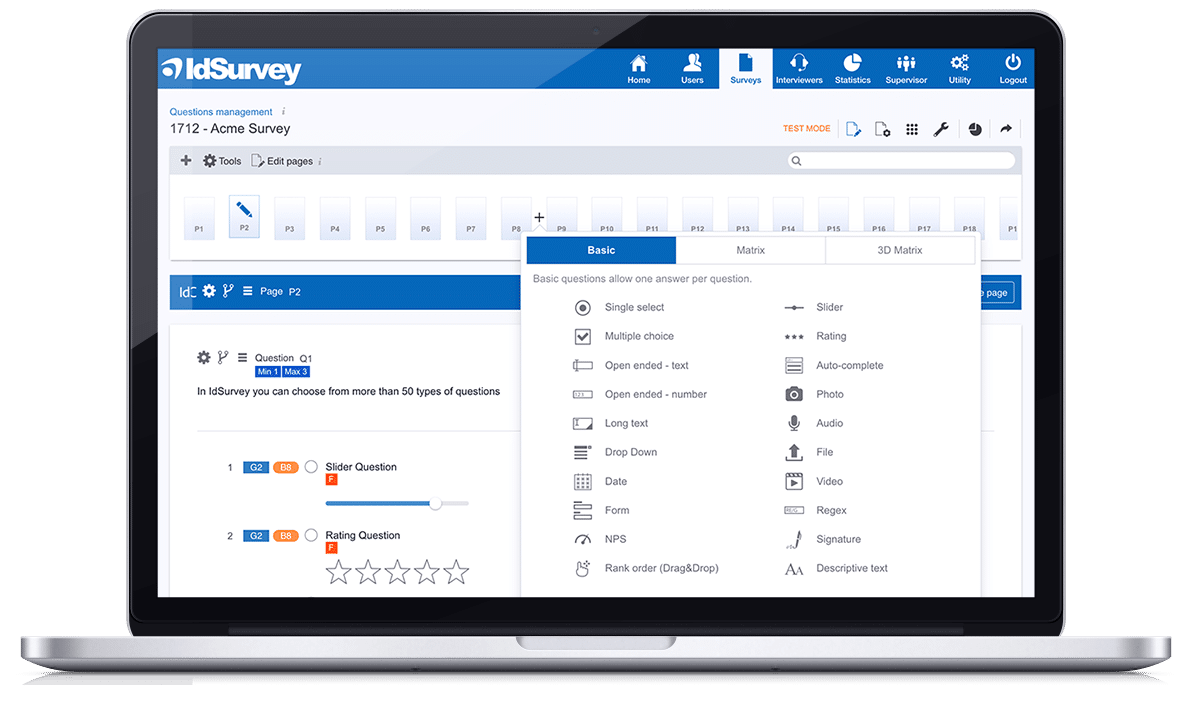 Methodologies compared: advantages and disadvantages of data collection via telephone, web and on field. (CATI, CAWI and CAPI)
CATI
CATI methodology
 (Computer Assisted Telephone Interview) improved telephone interviewing process. In fact, a software automatically 
support and lead the interviewer
 during data collection. Thus, they see questions on the screen followed by possible answers. For this reason, it has 
several advantages
:
high quality of collected data: you avoid any interviewer misinterpretation or incorrect question administering;
time reduction: automatic callback managed by the system. The interviewer can also directly insert the data with no use of paper;
more accuracy: being completely automated, there's no room for mistakes or unclear compiling;
complete control on interviews progress: you can check in real time completed, incomplete and dropped interviews.
CAWI
Web revolution has been crucial to market research evolution. This is particularly true for 
CAWI methodology
 (Computer Assisted Web Interviewing). Back in the days, with CAWI you could reach just around 20% of the population. So it was used just for limited purposes. Today, you reach 
wide and generic population
 (an entire country, a multinational corporation…). A link is sent to the respondents via email. They just follow the link to complete the questionnaire.
Main characteristics
 of CAWI method are:
1. the software autonomously send the emails and takes care of their following classification. Finished questionnaires are marked as complete.
2. the respondent is invited via email and clicks on the link to answer the questionnaire. Obviously you need to have all email addresses of your respondents to carry on a CAWI survey.
CAPI
CAPI method (Computer Assisted Personal Interview)
 is the tech evolution of 
Face to Face
 research. An interviewer collects the data in a face to face meeting with the respondent. Using a mobile device or PC even offline, the interviewer carry on the interview and send back the answers 
in real time
. Data are immediately sent to the main server. CAPI is used a lot in 
Mystery Client
 research: mystery clients can discreetely complete their task in their smartphone or mobile device.
Observations on CATI CAWI CAPI Surveys
To sum up, we compared CATI CAWI CAPI Surveys. And each one of them represented a step forward for market research. Now it's time for some observations on the actual effectiveness of these methodologies. CAWI methodology has several advantages but requires all respondents to have an email account and a basic knowledge of computers to correctly complete the questionnaire. CAPI methodology's biggest quality is the real face to face interaction between respondent and interviewer. In contrast, the average number of completed interviews in a working day is usually lower than CATI. CATI methodology guarantees the benefits of the other two techniques above. Specifically, an heterogeneous target and the call agent that can help the respondent during the interview. But CATI is still the most expensive method because of higher costs linked to the call center, the interviewers and phone traffic.