Create a survey directly from your browser
No coding skills required.
Survey design software like IdSurvey allows you to easily design customized questionnaires and create a survey according to your needs, even if you don't have any programming skills. If you want to create a survey, you have to simply open up your browser and choose from endless types of questions, such as rating, slider, and drag and drop. You can easily design even the most complex questionnaires by using all of IdSurvey's advanced survey design tools, such as IdCode. That's one of the many reasons why IdSurvey is the solution professionals love.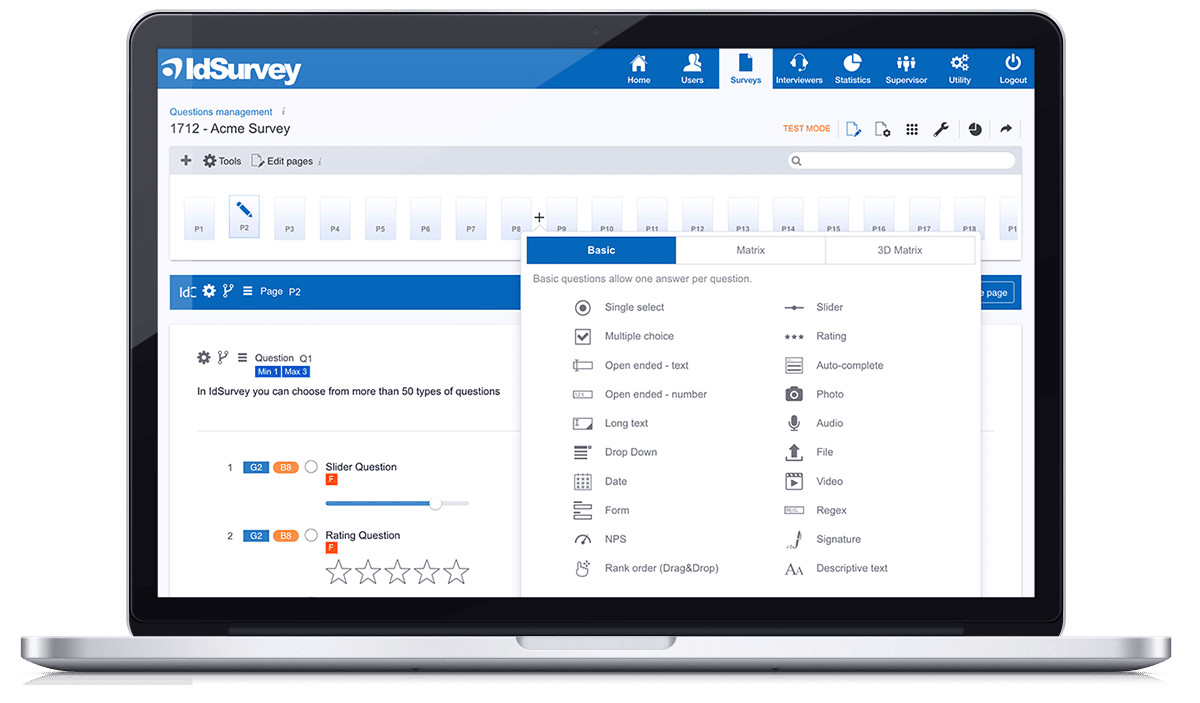 Survey design software intuitive interface
IdSurvey allows you to set up questionnaires for telephone, web-based and face-to-face surveys. In addition, contextual menus allow the questionnaire logic to be set up quickly and intuitively. The survey design software displays the questionnaire as the real interview, so you can easily design it. You can add or edit texts, select survey questions, and add complex rules in just a few clicks.
Survey design with IdCode
All code strength, no programming skills needed.
Designing a good survey questionnaire with IdCode is fast and intuitive, and no programming skills are necessary. You can switch from GUI to IdCode at any time, allowing you to easily learn the syntax.
Endless combinations, brilliant solutions.
Create a questionnaire and ask general questions or specific questions by choosing from more than 50 question types. Rating and slider questions will make your survey extremely enjoyable to answer, improving the response rate to the survey questions. IdSurvey also lets you ask respondents to take or upload a photo. With the drag & drop question feature, it's super easy to order options by preference.
Full control on questionnaire flow.
The best question for each respondent.Control your questionnaire flow with logic and branching tools. Logic conditions allow you to hide pages, questions, or answer choices, according to different parameters. With IdSurvey powerful tools you can easily design questionnaires that fit any of your respondents.
Complete control, endless possibilities.
For each element of the questionnaire you can specify parameters and settings that allow you to have maximum control thanks to the numerous tools for creating the survey.
Tools for complete control.
For all survey questions and answers you can set customized parameters. Discover IdSurvey main features.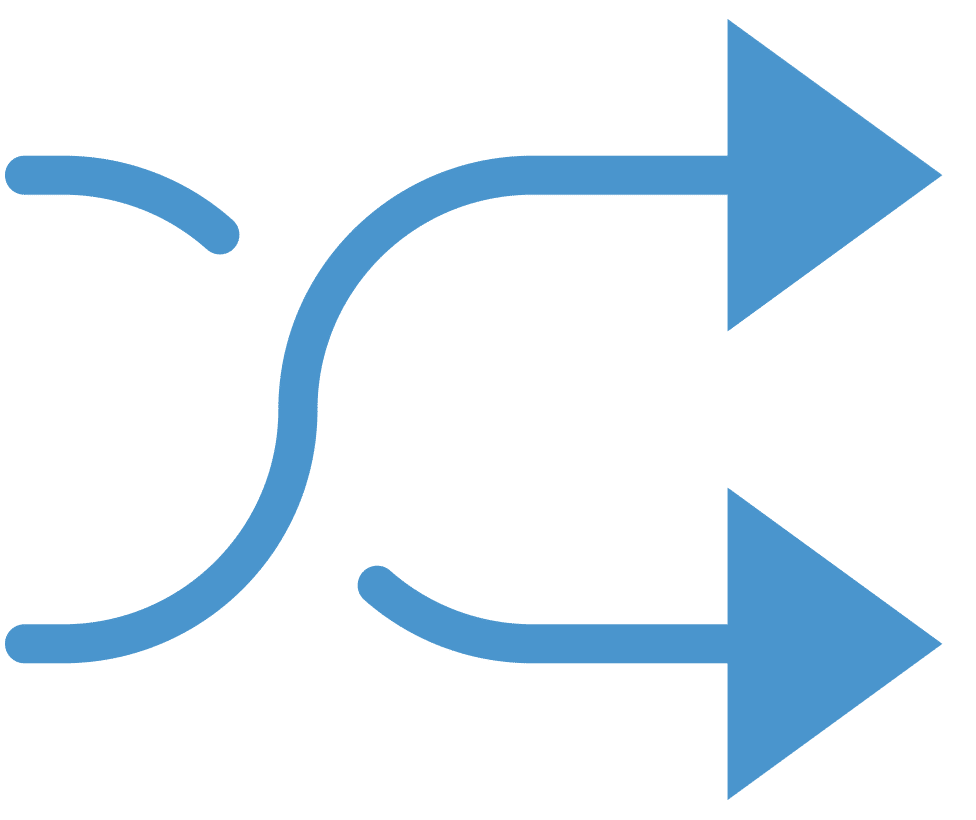 Random doesn't mean chaos.
IdSurvey random engine displays any item of the questionnaire in random order. So you can randomize pages, questions, rows, and much more. Also, you can create groups of items and enable random on their sub-items. Moreover, with the advanced random option, our survey design software lets you create endless complex combinations for reliable survey results.
Multilingual questionnaires
Ask good questions in the right language.
Create multilingual questionnaires by simply importing the Excel files with translations. IdSurvey will automatically display the interview in the browser language of the respondent. You can also use the language to display or hide questions or change the flow of the questionnaire. This tool will improve the quality of your survey research.
Create multilingual questionnaires in a simple and intuitive way!
With test mode you can simulate the real survey to train interviewers or test any part of the questionnaire, without concern over your data. By opening the interview in test mode, you can quickly complete the survey skipping to the questions you want to check. When you're ready to start the data collection, you set the survey in live mode with just one click.
When you disable test mode, the data are reset and survey is ready to be distributed. Test data are not saved that means you can put the survey offline and in Test Mode every time you want.
Clear on the screen, immediate on paper.
You can easily check your text by printing the questionnaire. Also, you can print logic conditions and options so you check questions logic and flow. With the immediacy of a printout, reviewing the questionnaire with your team or copywriter is a super-easy task.
Amazing feedback from our customers around the world.
"Great CATI software and excellent customer service - they provide you with customized training and technical assistance to make sure your projects are successful. They offer a fast turnaround to questions and their support team is amazing."
"The most sophisticated software for opinion polls and market research. User friendly interface, no need for additional experts."
"We found in IdSurvey the perfect partner for us. IdSurvey is the software that completely covers our company's needs in terms of data collection. You can choose from a variety of licenses that suit any kind of business, from the smallest to the largest."
"The software combines an easy to use GUI with the possibility to write the questionnaire in code, this makes it fast and easy to create complex surveys. The software feels stable and the uptime on our hosted version has been 100% for us."
"I overcome the limitations I found in the tools I used before IdSurvey. Powerful and easy to use, with a very knowledgeable and flexible support team. The possibilities of use are almost limitless."
"The way IdSurvey handles issues is outstanding. It is very well documented and very fast. The staff is professional and helpful at all times."
"Powerful and easy to use software for collecting data and designing surveys. I love IdSurvey and I would recommend it to anyone doing surveys."
"When we first started using IdSurvey, we were amazed by the clean interface and ease of use of the system. IdSurvey provides us with robust sample management . Programing questionnaires has never been easier!"