Survey design tools for professional data collection
Survey design software: create your project directly from your browser
No coding skills required
Survey design software plays a pivotal role in simplifying the process of creating questionnaires, and IdSurvey is an exceptional example of such software. With IdSurvey, anyone, regardless of their programming skills, can effortlessly design questionnaires that align with their specific needs. The software offers a user-friendly interface that can be accessed through a web browser, making it convenient and easily accessible to users.
With its wide range of question types and advanced survey design tools, such as IdCode, IdSurvey enables professionals to create even the most complex questionnaires efficiently.
The software streamlines the survey design process, allowing users to create highly customized and professional-looking questionnaires. The intuitive interface and comprehensive features of IdSurvey make it a preferred choice among professionals.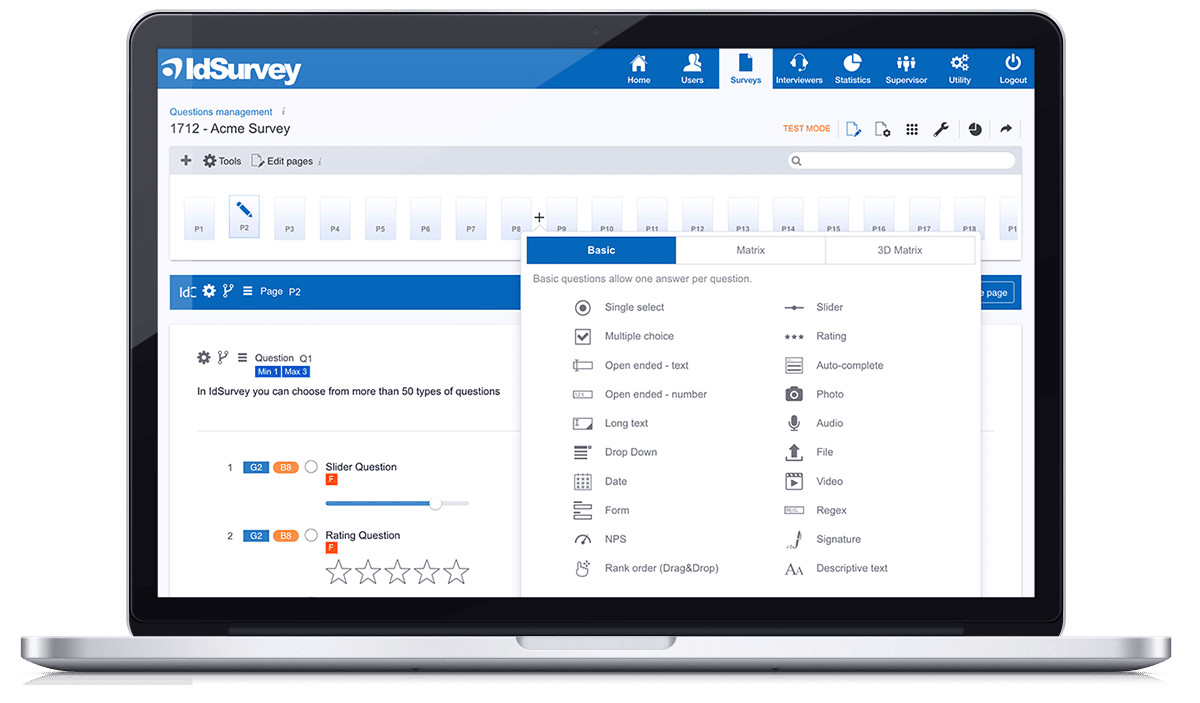 Survey design tools wrapped in intuitive interface
IdSurvey offers a versatile platform to create questionnaires for various survey modes, including telephone, web-based, and face-to-face surveys. This flexibility allows users to adapt their surveys to different projects, ensuring seamless integration with their preferred surveying approach. With a simple and intuitive interface, IdSurvey empowers users to efficiently configure the questionnaire according to their requirements, saving time and effort. The survey design software provides a visual representation of the questionnaire (WYSIWYG), allowing users to have a comprehensive overview and a better understanding of how the final questionnaire will be presented to respondents. In just a few clicks, users can add or edit texts, select survey questions, and incorporate complex rules. IdSurvey's streamlined survey design process empowers users to efficiently create questionnaires without extensive technical knowledge.
Endless combinations, brilliant solutions
Create a questionnaire with the survey design tools offered by IdSurvey and ask anything you want by choosing from more than 50 question types. Rating and slider questions will make your survey extremely enjoyable to answer, improving response rate to the survey questions. The survey design software also lets you ask respondents to take or upload a photo, a video, audio, or file. Easily order options by preference with the drag & drop question. Choose among standard questions, matrix and 3D matrix.
Survey design: Logic and Branching
Full control on questionnaire flow with the survey design software
IdSurvey offers powerful logic and branching tools that give users full control over the flow of their questionnaires. These tools allow for the implementation of logic conditions, enabling the hiding of pages, questions, or answer options based on various rules. This flexibility ensures that the survey experience is tailored to each individual respondent, ensuring the accuracy and relevance of the data you collect. With the survey design software, users can effortlessly design questionnaires that adapt to the unique needs of their respondents, creating a seamless and personalized survey journey.
Complete control, endless possibilities
For each element of the questionnaire you can specify parameters and settings that allow you to have maximum control thanks to the numerous survey design tools available in IdSurvey.
Tools for complete control.
For all survey questions and answers you can set customized parameters. Discover IdSurvey main features.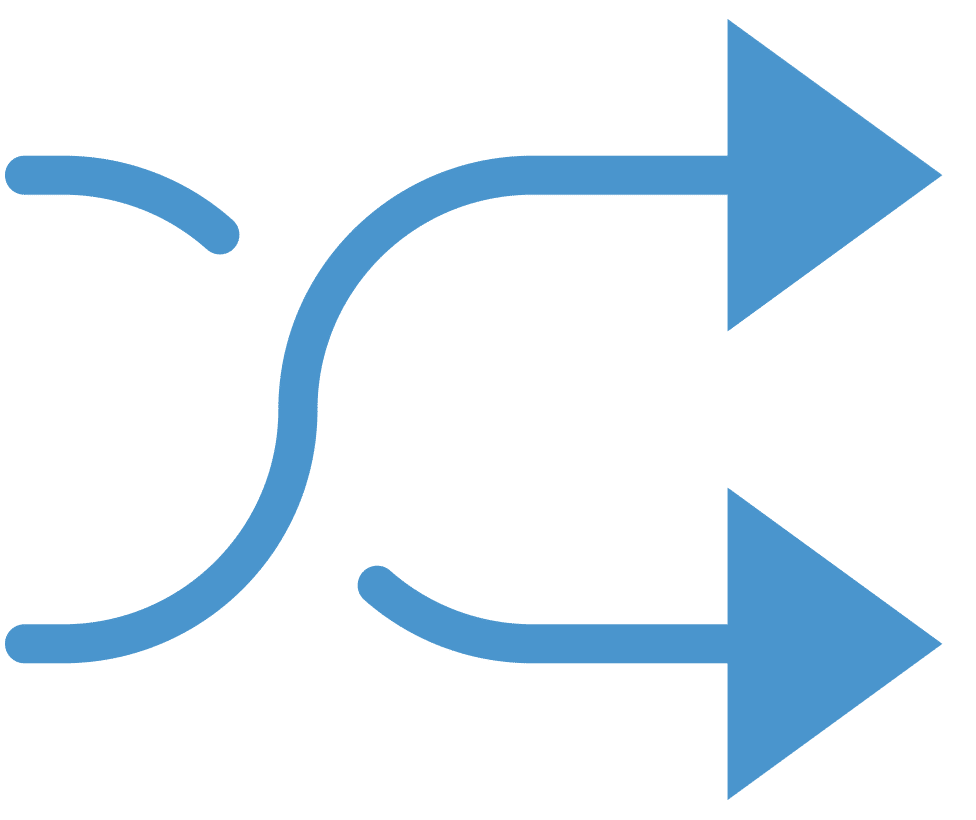 Random doesn't mean chaos
IdSurvey random engine displays any item of the questionnaire in random order. So you can randomize pages, questions, rows, and much more. Also, you can create groups of items and enable randomization on their sub-items. Moreover, with the advanced random option, the survey design software lets you create endless complex combinations for reliable survey results.
Survey design with IdCode
All code strength, no programming skills needed
Designing a good survey questionnaire with IdCode is not only fast and intuitive but also accessible to users without any programming skills. The survey software provides a seamless transition from the graphical user interface (GUI) to IdCode, enabling users to switch between the two modes effortlessly. Users can learn and adapt to IdCode's syntax at their own pace, ensuring a smooth and efficient survey design experience.
The syntax of IdCode is designed to be user-friendly, making it easy for users to grasp and utilize, even without prior programming experience.
With IdCode, users can unlock the software's potential and design surveys that meet their specific research needs with ease and efficiency.
Multilingual questionnaires
Ask good questions in the right language
Create multilingual questionnaires by simply importing the Excel files with the translations in the survey design software. IdSurvey will automatically display the interview in the language of the respondent's browser. You can also use the language to display or hide questions or change the flow of the questionnaire. This tool will improve the quality of your survey research allowing the respondents to answer the survey in the language they prefer.
Create multilingual questionnaires in a simple and intuitive way!
With test mode you can simulate the real survey to train interviewers or test any part of the questionnaire, without concern over your final data. By opening the interview in test mode, you can quickly complete the survey skipping to the questions you want to check. When you're ready to start the data collection, you set the survey in live mode with just one click and the survey design software automatically starts saving the data in the final database.
When you disable test mode, the data are reset and survey is ready to be distributed. Test data are not saved that means you can put the survey offline and in Test Mode every time you want.
Clear on the screen, immediate on paper
You can easily check your texts by printing the questionnaire from the survey software. Also, you can print logic conditions and options so you check questions logic and flow. With the immediacy of a printout, reviewing the questionnaire with your team or copywriter is an easy task to complete! 
Amazing feedback from our customers around the world.
"Great CATI software and excellent customer service - they provide you with customized training and technical assistance to make sure your projects are successful. They offer a fast turnaround to questions and their support team is amazing."
"The most sophisticated software for opinion polls and market research. User friendly interface, no need for additional experts."
"We found in IdSurvey the perfect partner for us. IdSurvey is the software that completely covers our company's needs in terms of data collection. You can choose from a variety of licenses that suit any kind of business, from the smallest to the largest."
"The software combines an easy to use GUI with the possibility to write the questionnaire in code, this makes it fast and easy to create complex surveys. The software feels stable and the uptime on our hosted version has been 100% for us."
"I overcome the limitations I found in the tools I used before IdSurvey. Powerful and easy to use, with a very knowledgeable and flexible support team. The possibilities of use are almost limitless."
"The way IdSurvey handles issues is outstanding. It is very well documented and very fast. The staff is professional and helpful at all times."
"Powerful and easy to use software for collecting data and designing surveys. I love IdSurvey and I would recommend it to anyone doing surveys."
"When we first started using IdSurvey, we were amazed by the clean interface and ease of use of the system. IdSurvey provides us with robust sample management . Programing questionnaires has never been easier!"
Survey design software: FAQ
What is survey design?
Survey design refers to the process of creating a questionnaire to gather data from a targeted group of respondents. It involves carefully crafting the structure, format, and content of the survey to ensure that it effectively captures the desired information. Survey design encompasses various aspects, including selecting appropriate question types, organizing the sequence of questions, implementing logical flow, and considering the overall survey experience for respondents. A well-designed survey is crucial for collecting accurate and reliable data that can be analyzed to gain useful insights about the target audience.
What is survey design software?
Survey design software is a specialized tool that facilitates the creation and customization of questionnaires for surveys. It provides a user-friendly interface that allows users to design surveys according to their specific needs and research goals. Survey design software typically offers a wide range of question types, logic and branching capabilities, multilingual management, quotas management, and other advanced features to optimize the survey design process. It eliminates the need for programming skills, enabling users to easily create professional-looking surveys that capture the desired information from respondents. The most professional survey design tools cover multiple methodologies like telephone, online and offline.
How to design a good survey?
Designing a good survey involves several key aspects to keep in mind:


Clearly define the research goals and target audience to ensure the survey aligns with the desired outcomes.
Craft concise and unbiased survey questions that are relevant to the objectives. Use a variety of question types to gather different types of data.
Organize the survey in a logical and coherent flow, keeping it user-friendly and engaging.
Incorporate proper response scales and offer an option for open-ended feedback.
Pretest the survey with a small sample to identify and address any issues before administering it to the larger audience.