Online surveys with style
IdSurvey offers its advanced CAWI software module, which stands for Computer Assisted Web Interviewing, empowering users to conduct smart and personalized online surveys. This online survey software module allows you to effortlessly connect with a vast pool of respondents. Through the CAWI software, you can conveniently select themes, customize layouts, and incorporate logos, tailoring each survey to your specific needs.
Moreover, the CAWI survey tool ensures that your interviews are flawlessly displayed on any device, be it a computer, smartphone, or tablet. Leveraging the integrated Email survey tools and SMS Sender features, you can easily send survey invitations to your sample directly from the IdSurvey platform. With such powerful online survey tools at your disposal, conducting surveys has never been more efficient and effective.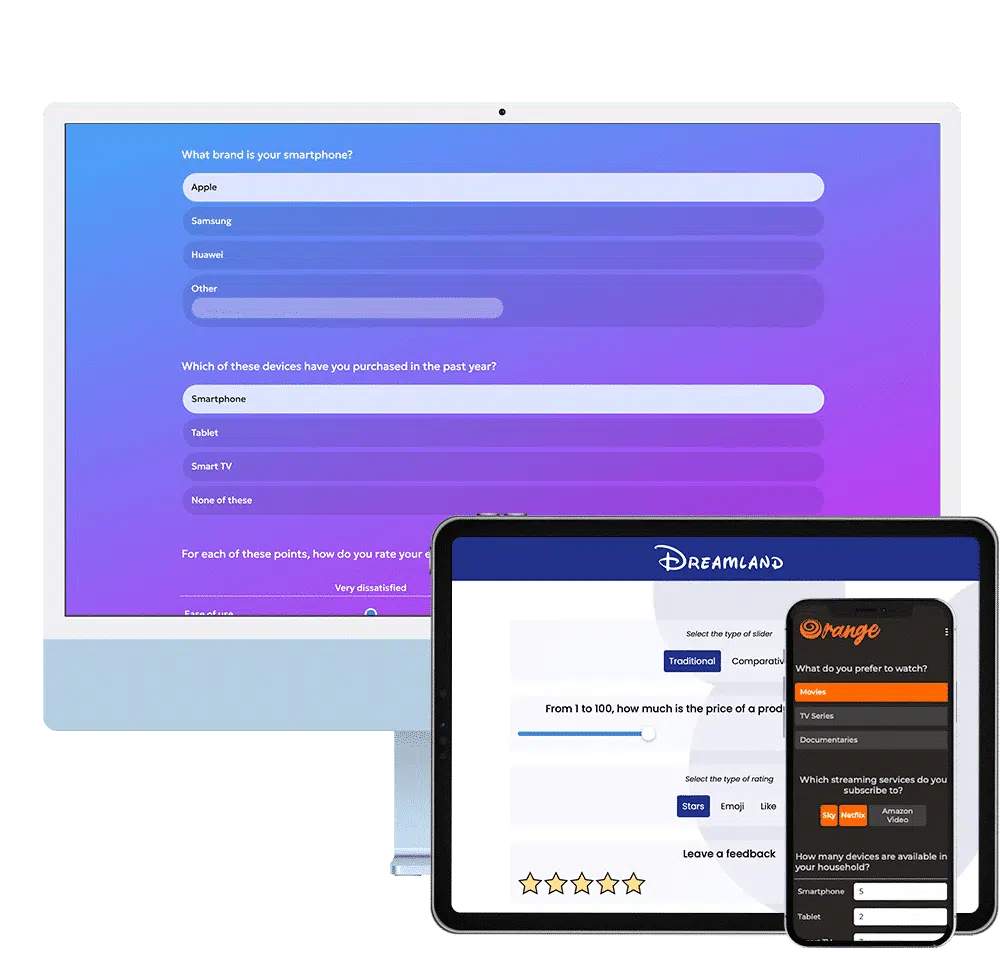 Online survey tool main features
Multiple solutions, one cawi software
Request CAWI software demo
Fill in the form to schedule a demo of IdSurvey.
IdSurvey is the survey software professionals love. Thanks to its advanced survey tools it's easy to design even the most complex questionnaires. Schedule a free live demo with our team today.
Advanced online surveys software tools
The most advanced online survey distribution platform. Send the invitation to answer the questionnaire by email, sms, links and third party systems
Designing a email campaign has never been easier with email survey tools
Discover the powerful email survey tools integrated with IdSurvey. Create the invitation campaign for your survey, manage reminders and monitor statistics. Smart campaigns will automatically optimize the completion of the quotas of your CAWI survey as well as automatically adding to the campaign the contacts that match the criteria you previously set.
Reach everyone on their mobile devices, instantly
Use the SMS Sender tool integrated with IdSurvey to create invitation campaigns for your online survey, manage reminders and monitor statistics. Thanks to the Smart campaigns you will automatically optimize the completion of quotas. Also, you can set automatic invitations to all the contacts that match specific requirements with the online surveys software.
LINK ON WEBSITE AND SOCIAL MEDIA
Create customized links in order to track down the origin of survey responses. You can create multiple links for each distribution channel. For example, you can use one link for a website, one for a social network and one for the emails.

Using the "Populate fields from URL" you can combine IdSurvey with Facebook or other social networks. For example, to collect email addresses and other data from the contact.
PANELS AND THIRD PARTY INSTRUMENTS
Work with one or multiple panel providers at the same time for the same survey. Add the redirect links to the panel provider corresponding to the outcomes "complete interview", "quota full" and "out of target". Besides, by using to the "Populate fields from URL" function you can easily combine third party instruments. For specific requests you can require the integration to existing SSO (Single sign-on).
Survey invitation features
Amazing feedback from our customers around the world.
"Great CATI software and excellent customer service - they provide you with customized training and technical assistance to make sure your projects are successful. They offer a fast turnaround to questions and their support team is amazing."
"The most sophisticated software for opinion polls and market research. User friendly interface, no need for additional experts."
"We found in IdSurvey the perfect partner for us. IdSurvey is the software that completely covers our company's needs in terms of data collection. You can choose from a variety of licenses that suit any kind of business, from the smallest to the largest."
"The software combines an easy to use GUI with the possibility to write the questionnaire in code, this makes it fast and easy to create complex surveys. The software feels stable and the uptime on our hosted version has been 100% for us."
"I overcome the limitations I found in the tools I used before IdSurvey. Powerful and easy to use, with a very knowledgeable and flexible support team. The possibilities of use are almost limitless."
"The way IdSurvey handles issues is outstanding. It is very well documented and very fast. The staff is professional and helpful at all times."
"Powerful and easy to use software for collecting data and designing surveys. I love IdSurvey and I would recommend it to anyone doing surveys."
"When we first started using IdSurvey, we were amazed by the clean interface and ease of use of the system. IdSurvey provides us with robust sample management . Programing questionnaires has never been easier!"
Online surveys: identified or anonymous
Enter the web survey with a univocal or a general link
Using the powerful CAWI survey software from IdSurvey, you gain versatile distribution options for your surveys. One method involves distributing your CAWI survey to a pre-existing list of respondents, where each interview is linked to a specific individual.
Alternatively, the online survey software allows you to collect anonymous interviews, perfect for situations where you prioritize gathering unbiased responses without associating them with particular individuals.
Set a statistical sample for your CAWI survey
You can set quotas to only collect interviews that are useful for your statistical sample. You can also add or edit quotas while the CAWI survey is underway. Quotas can be based on pre-owned data or on data collected during the interview. Respondents that fit into a full quota will be screened out. For those respondents, a customizable thank-you message will be displayed instead. Email Sender smart campaign will also auto-exclude contacts that are not useful for quota completion.
Mix multiple methodologies in the same survey
Using mixed mode, you can combine web surveys with telephone or face-to-face ones. For example, you can send out an email with the invitation to your online survey first and then – after a few days – you can phone the respondents who didn't answer to your invitation. By using Mixed Mode you can add phone and face-to-face methodology advantages to your CAWI survey, all in one software.
Embrace the efficiency of interview packs, designed to cater to your unique requirements and offer the ideal solution for your surveying needs. With our transparent pricing model, you only pay for completed interviews, providing cost-effectiveness and peace of mind. Enjoy the benefits of discount brackets, ensuring that you receive the best prices even for smaller purchases. The discount is calculated based on the total number of interviews acquired within the last 12 months, rewarding your continued usage and commitment to insightful data collection.
What is CAWI?
CAWI stands for "Computer Assisted Web Interviewing." It is a research method of conducting surveys and collecting data through online questionnaires. In CAWI, respondents participate in the survey by accessing the questionnaire through a web link on their computers, smartphones, or tablets, and they provide their responses digitally. CAWI has become increasingly popular due to the widespread availability of the internet and its convenience. With CAWI, researchers can quickly reach a large audience and collect data efficiently without the need for face-to-face interactions or physical paper surveys.
What is CAWI software?
CAWI software, short for "Computer Assisted Web Interviewing software," is a professional online survey tool designed to facilitate and manage web surveys. It is a type of online survey software that enables researchers, market analysts, and organizations to create, distribute, and analyze surveys through web-based platforms. CAWI software provides a user-friendly interface for designing and customizing surveys, making it easy to create engaging questionnaires with various question types, logic conditions, randomizations, custom flows, quotas, and multimedia elements.
What are the main characteristics of an online survey software?
The main features of an online survey software typically include:


Survey Design: The software allows users to design surveys with various question types, such as multiple-choice, open-ended, rating scales, and more. Users can customize the appearance and layout of the survey to align with their branding.
Survey Distribution: CAWI software provides methods for distributing surveys to the target audience. This can include email invitations, sms invitations, social media links, website embeds, or QR codes.
Data Collection: As respondents complete the online surveys, their responses are automatically recorded and stored in a centralized database.
Real-time Reporting and Analysis: CAWI software often offers real-time reporting and analysis features. Users can access data dashboards and generate reports to gain insights and analyze survey results as they come in.
Accessibility: CAWI software is designed to be responsive and accessible across various devices, including computers, smartphones, and tablets, ensuring that respondents can easily participate in surveys from anywhere with an internet connection.
What are the main advantages of online survey tools?
Online survey tools offer numerous advantages for businesses and organizations looking to collect data and insights from their target audience. Let's take a look at the main ones:


Cost-Effective: Online survey tools reduce costs associated with printing questionnaires, data entry, and agents. They are generally more affordable compared to traditional survey methods.
Fast Data Collection: Researchers can distribute surveys to a large number of participants simultaneously, resulting in faster responses and quicker data collection and analysis.
Wider Reach: Online surveys can reach a geographically diverse audience, allowing researchers to collect data from respondents across different countries.
Anonymous: Online surveys allow respondents to maintain anonymity, which can encourage more honest feedback, particularly for sensitive topics.
Integration with Other Tools: Many online survey platforms offer integration with other software and applications, such as panels and CRM systems, enhancing the overall research process.